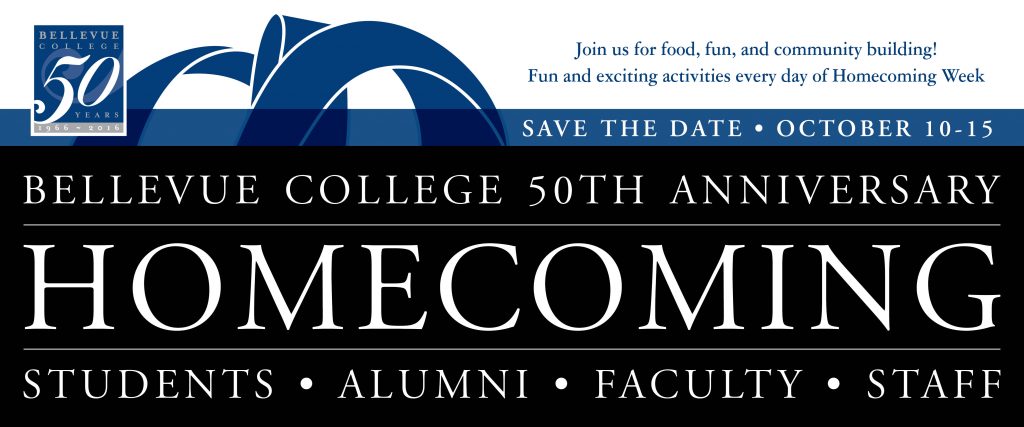 Monday, Oct. 10
Homecoming Kickoff & Multicultural Day
We'll be kicking off Homecoming week with a visit from local dignitaries who will read proclamations recognizing Bellevue College's 50th anniversary, followed by cake! To capture the excitement and spirit of the occasion, we're planning the biggest Bellevue College group photo of all time with as many students, faculty and staff as we can gather, and then to celebrate our diverse spirit, a screening of the documentary film "Latinos: The Changing Face of Washington".
10 a.m. – Launch event with media & elected officials
11:25 a.m. – BC "50" Photo in the library courtyard
12:30 p.m. – Hispanic Heritage Program: Latinos: The Changing Face of Washington
1-3 p.m. – Student programs in the C building including African Cafe, Chinese Tea, Lantern Making and Origami Lessons throughout the day.
All day – Multicultural Music throughout the day provided by KBCS
Tuesday, Oct. 11
BC Cares Day
On this day we'll give back to the community with a clothing drive and a special "Speaking Out" program to recognize LGBTQ National Coming Out Day.
10 a.m.- 2 p.m. – "50 lbs for the 50th" Food Drive
10 a.m.-2 p.m. – Clothing drive
9 a.m,.-3 p.m. – : LGBTQ National Coming Out Day
5-8 p.m. LGBTQ "Speak Out" program
Wednesday, Oct. 12
Thriller Day
We know you've always secretly longed to learn those unforgettable Thriller video dance moves – and we've got you covered. Be prepared on Wednesday, Oct. 12 for the first-ever Bellevue College Thriller Day and learn how to groove like MJ. We'll also be holding a special reception for "The Exceptional 50".
10 a.m.-2 p.m. – DJ & photo ops with Brutus the BC mascot
11:30 a.m.-2 p.m. – Nursing Student Association bake sale
2-3 p.m. – Thriller dance lesson & zombie dress up
3-30 p.m.- Thriller dance performance
6-8 p.m. – "The Exceptional 50" Reception
Thursday, Oct. 13
Health & Wellness Day
Have fun and get healthy! Strike a pose in a yoga session, browse a fresh produce stand, bring your ride by a BikeMobile, and learn more about nutrition on this day dedicated to all things healthy.
9 a.m..-5 p.m. – Planned Parenthood Generation Action & PolyClinic
10 a,m.-2 p.m. – BikeMobile bike repairs – Cafeteria courtyard
10 a.m.-2 p.m.- Farmers Market – Location Change: Moved inside C Building (Cafeteria)
10 a.m.-2 p.m. – Photo ops with Brutus the BC mascot
12 p.m. – Movie: "Live Monumental" (on 20-minute loop)
12:30-1:20 p.m. – Challenge Course
2-3 p.m. Pilates Class
2:30-3:20 p.m. – Yoga Class, T119
5-7 p.m. – Advisory Committee Reception
Friday, Oct. 14
Spirit Day
Spirit Day starts with the President's cabinet serving a delectable breakfast to faculty, staff and students, we'll have a sidewalk chalk design contest celebrating our 50th anniversary, and for a grand finale, a "golf cart competition and parade" to decide which golf cart (and team) exemplifies the spirit of BC.
Please note that the all-day Homecoming Festival scheduled for Saturday, Oct. 15 on the main BC Campus has been postponed due to the forecast for inclement weather. The BC Crossover volleyball tournament scheduled for Friday-Saturday, Oct. 14-15 still is scheduled to be played.
* schedules subject to change
Last Updated October 19, 2016