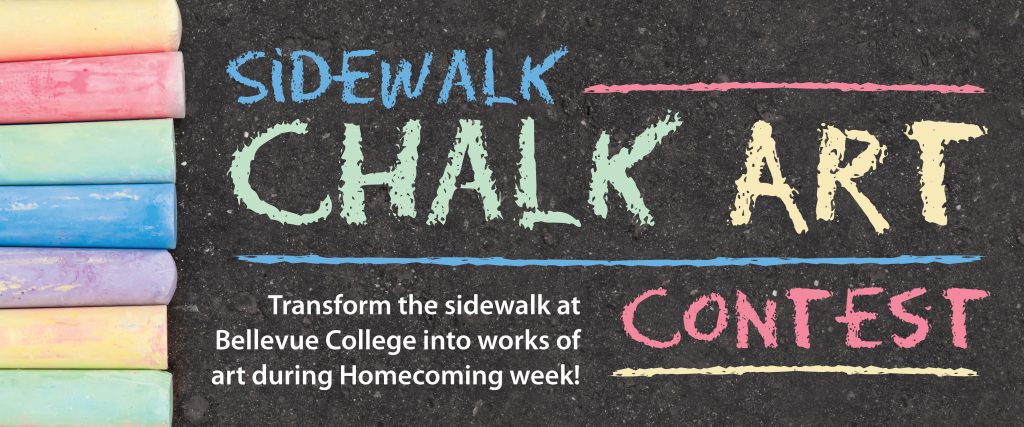 Celebrate Homecoming and transform the sidewalk at Bellevue College into vibrant colors and works of art!
The contest is open to artists and artist groups ages 14 and over. As a registered artist or group of 2-3, you will be given a square of sidewalk in the breezeway between A and B buildings to work with. Squares will be assigned upon check in on the morning of the event.
Event Categories
Overall Best of Show
People's Choice Award– All age groups included
Registration
No entry fee. Preregistration is recommended. If space is available, participants may register the day of the event.. Entries will be processed in the order they are received. Please complete the registration form and return by Friday, Sept. 30.
Event Schedule – Friday, Oct. 14
9 – 10 a.m. – Artists and art groups check in at the table outside A101.
10 a.m. – 2 p.m. – Artists and art groups will be creating their masterpieces. Individuals are welcome to come view them at work.
2 p.m. – View the artwork and cast your people's choice vote.
3 p.m. – Winners Announced
Artists
Should bring their own
Design
Knee pads
Grid/Pattern
Chalk will be provided or you may bring your own.
Rules
Only washable chalk may be in your design. No acrylic paints, liquid pastels, oil -based pastels, hard pastels, etc. will be allowed
Designs must not exceed beyond their designated square. Approximate size of square will be 4'x4'. Your design must fit inside the 4'x4' square
All artwork must be appropriate for public viewing by all ages; No lewd, graphic violence, gore, nudity
No political messages, words or symbols intended as advertising may appear in the image or space provided
Digital photos will be taken, Bellevue College. reserves the right to use photographs for marketing, promotion and publicity purposes
Organizers have the right to disqualify and/or remove any inappropriate art or writing as they deem necessary
Spaces will be assigned on first come first served basis
Official judging based on first impression, creativity, originality, skill and use of color. Decision of the judges are final.
For additional sidewalk chalk contest information contact: Laura Gettleman: laura.gettleman@bellevuecollege.edu (425) 564-2664
The Sidewalk Chalk Art Contest is being held in conjunction with Homecoming Week sponsored by the Bellevue College Foundation.
Last Updated September 27, 2016