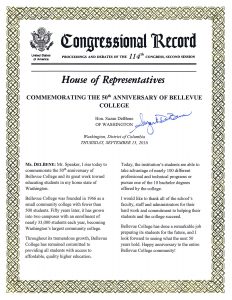 PROCEEDINGS AND DEBATES OF THE 114th CONGRESS, SECOND SESSION
House of Representatives
COMMEMORATING THE 50th ANNIVERSARY OF BELLEVUE COLLEGE
Hon. Suzan DelBene
OF WASHINGTON
Washington, District of Columbia
THURSDAY, SEPTEMBER 15, 2016
Ms. DELBENE: Mr. Speaker, I rise today to commemorate the 50th anniversary of Bellevue College and its great work toward educating students in my home state of Washington.
Bellevue College was founded in 1966 as a small community college with fewer than 500 students. Fifty years later, it has grown into two campuses with an enrollment of nearly 33,000 students each year, becoming Washington's largest community college.
Throughout its tremendous growth, Bellevue College has remained committed to providing all students with access to affordable, quality higher education.
Today, the institution's students are able to take advantage of nearly 100 professional and technical programs or pursue one of the 10 bachelor degrees offered by the college.
I would like to thank all of the school's faculty, staff and administrators for their hard work and commitment to helping their students and the college succeed.
Bellevue College has done a remarkable job of preparing its students for the future, and I look forward to seeing what the next 50 years hold. Happy anniversary to the entire Bellevue College community!
Last Updated October 19, 2016