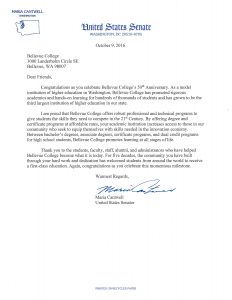 October 9, 2016
Bellevue College
3000 Landerholm Circle SE
Bellevue, WA 98007
Dear Friends,
Congratulations as you celebrate Bellevue College's 50th Anniversary. As a model institution of higher education in Washington, Bellevue College has promoted rigorous academics and hands-on learning for hundreds of thousands of students and has grown to be the third largest institution of higher education in our state.
I am proud that Bellevue College offers robust professional and technical programs to give students the skills they need to compete in the 21st Century. By offering degree and certificate programs at affordable rates, your academic institution increases access to those in our community who seek to equip themselves with skills needed in the innovation economy. Between bachelor's degrees, associate degrees, certificate programs, and dual credit programs for high school students, Bellevue College promotes learning at all stages of life.
Thank you to the students, faculty, staff, alumni and administrators who have helped Bellevue College become what it is today. For five decades, the community you have built through your hard work and dedication has welcomed students from around the world to receive a first-class education. Again, congratulations as you celebrate this momentous milestone.
Warmest Regards,
Maria Cantwell
United States Senator
Last Updated October 19, 2016