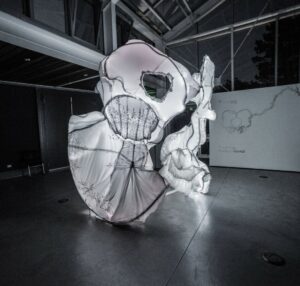 Mary Coss
Residency: October 4 – 15 & November 1 – 17
Sound the Siren Exhibition: November 17 – December 30
Opening Reception: November 17th from 4-8PM, BC Gallery
Individuals, groups, and faculty who want to bring their classes are encouraged to visit the gallery during the residency to meet Mary and discuss her work. Mary will be in the gallery Tuesdays, Wednesdays, and Thursdays 10AM-4PM. Please contact her (cossmary@gmail.com) at least 1 day before the day that you would like to visit.
Mary Coss is a multidisciplinary artist known for her monumental sculpture and multimedia installations that explore culture and society through allegory. Born in Detroit and based in Seattle, Coss received her MFA from Syracuse University, Dept. of Experimental Studios. This hybrid sculpture/media program, coupled with a minor in sociology, inspired a life-long commitment to create cross disciplinary socially conscious work.
Coss 'extensive exhibition record spans galleries, museums and sculpture parks. Honors and recognition include awards and grants from the NEA, Ford and Puffin Foundations, 4Culture, and Artist Trust. Her installation, Public Debt to the Suffragette, received an "Art to Change the World: Inspiring Social Justice" ACLU Award. Residencies include Cill Rialaig and Greywood Arts in Ireland and Willapa Bay, Playa, San Juan Sculpture Park, James and Janie Washington Foundation, and Cornish Incubator Residency in the US.
Coss 'Public Art experience ranges from large scale commissions to local social engagement, and includes authorship of art plans and coordination as lead artist. She was on the Greenbridge Master Plan Design Team, which garnered four design awards. Coss 'award winning sculpture Ghost Log, featured prominently on the Tacoma waterfront, demonstrates her collaborative process with community. She worked with the local Puyallup Tribe to incorporate their Indigenous language and craft, while navigating federal fish and wildlife regulations and historic preservation standards to incorporate a vintage artifact over the waterfront. The work has a companion sound piece and generated a 7-episode podcast series.
Coss has built international partnerships that include exhibitions, residencies and cultural exchanges in Canada, Italy, Ireland, Guatemala, Sweden, and Turkey. She is cofounder of a Rape Crisis Center (REACH), a youth arts Program (SEEDarts) and METHOD Gallery in Seattle. She serves as a leader amongst the Seattle arts community by mentoring, teaching, curating, and leading projects that infuse the arts with social justice.
www.marycoss.com
Last Updated November 10, 2022