Appointments!
Appointments can be scheduled in Fall – Spring Quarters Monday through Thursday, 9:30am to 6:30pm, Fridays 9:30am to 2:30pm.
In Summer Quarter, they are 9:30am to 2:30pm Mondays & Thursdays and 9:30am to 5:30pm Tuesdays & Wednesdays.
Same-day drop-in visits are during all regular business hours.
To make an appointment for a day in the future
There are two ways to make an appointment: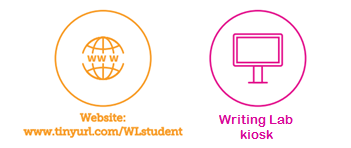 Enter name and identification information as prompted, including cell phone number.
Click on the "Schedule a FlexAppointment for another day and time" box.
Choose from the times available. Only one appointment can be reserved at a time.
Remember to click "Done" on the last page to set the appointment.
Provide your cell phone number to receive a reminder text message a day before your appointment time and messages to come to D204 at your appointment time.
Text "C" in reply to the first appointment confirmation message from QLess to cancel an appointment.
For same-day visits – not an appointment – three ways to get in line:

After providing information in the sign-in page, click on the "Join the line to be seen as soon as possible" box.
Click "Done" on the last page to be added to the line.
You will get text messages about approximate wait times and when you are first in line.
If you are waiting in the Writing Lab, a tutor will call your name.
Questions? Comments? – Please contact the Writing Lab Chair, Cassie Cross, at cassie.cross@bellevuecollege.edu.
Last Updated November 12, 2020