For your first visit to the Writing Lab, follow the steps below
For those who have been to us before, go to our Teams channel now.
To meet with a live tutor online during our regular business hours, please follow the steps below. For times outside our schedule, visit the Online Tutoring Consortium.
To get started
Every BC student has access to Microsoft Teams for free through your BC Outlook email in a browser. The app is also free to download. Just look for "Microsoft Teams" wherever you shop for apps. Use the desktop version and update frequently for best results.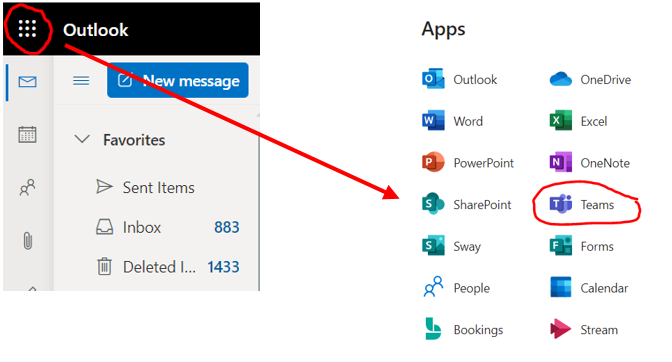 Caution: Your email address and name associated with your Bellevue College email account will be visible to all those who access the Writing Lab Teams General channel when you post there.
1. Use Chrome or Microsoft Edge as your web browser. (Firefox and Safari don't support Teams.)
2. When you click on the big red button at the end of this page, it will prompt you to open Microsoft Teams. Choose the web browser or desktop version, whichever you prefer, and it will take you to the Writing Lab Tutoring General channel.
3. This and the following directions are based on the desktop version of Teams.
Click the New Conversation button and post your first message, such as "Hi, could I get some feedback on an assignment?"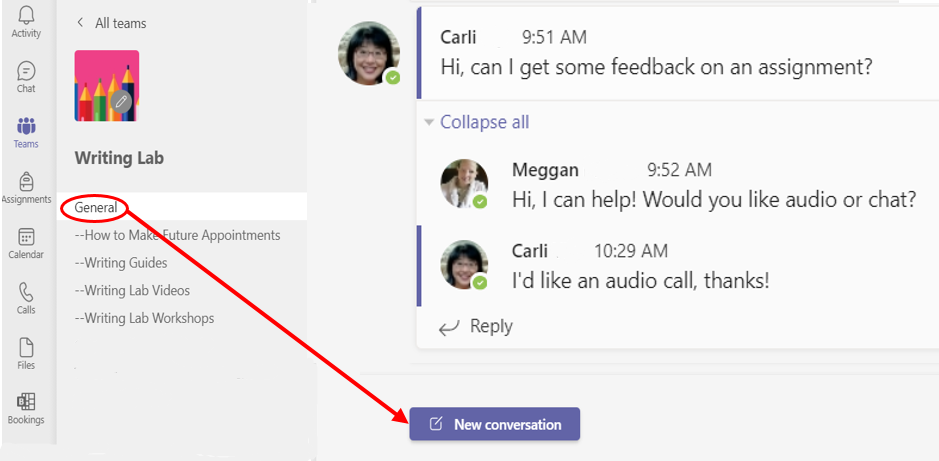 4. When a tutor responds, use the "Reply" box to continue communicating in the same thread, and the tutor will soon start a private meeting with you. Click the video camera icon or the middle phone icon to answer their call and start your session. Make sure your microphone is on.
Note: Do not upload any documents to Teams in the General channel, which is visible to everyone. Wait until you are in a private meeting to send files to your tutor!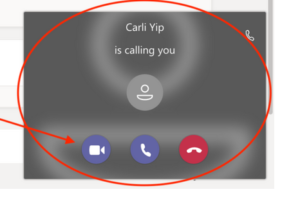 5. If you want to communicate only using text, look for a message from the tutor in "Chat" in the vertical menu.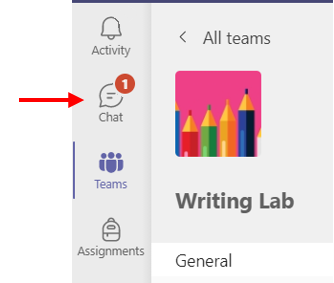 Once in a meeting with a tutor, you can click the Share Screen/Share Content button to show your tutor your assignment directions or essay prompt, and your writing.
You may also turn on or off your camera and microphone (icons to the left of the share screen icon)

6. When you click the Share Screen icon, little images of your computer's programs that are open will appear in another area. Click only the program you want the tutor to be able to see. The tutor will be able to only see your selected apps or documents. You will have control to make any changes to your writing. Make the view of essays enlarged (more than 100% scale) to help the tutor read your work more easily.
7. Some time after your session with the tutor, you'll receive an email with a link to a short survey. Please let us know about your experience and tutoring mode preferences.
8. Click on the button below to access the Writing Lab in Teams

We look forward to meeting with you!
For more on how to access Teams, see this Teams Guide for Students
Last Updated May 23, 2023