To meet with a live, real-time tutor online during our regular business hours, please follow the steps below. For times outside our schedule, visit the Online Tutoring Consortium.
Every BC student has access to Microsoft Teams for free through your BC Outlook email in a browser. The app is also free to download. Just look for "Microsoft Teams" wherever you shop for apps.
Caution: Your email address and name associated with your Bellevue College email account will be visible to all those who access the Writing Lab Teams General channel when you post there.
Visits to the Writing Lab may be spontaneous ("drop-in") or pre-arranged ("appointments")
How To Access Tutoring in Teams
Read through these 10 steps first, especially number 6, then press the big red button!
1. Use Chrome or Microsoft Edge as your web browser. (Firefox doesn't support Teams meetings.)
2. Click on the button below to begin accessing the Writing Lab Teams site

3. It will prompt you to open Microsoft Teams. You may choose to open it through the web app, but if possible, download the desktop version for best results.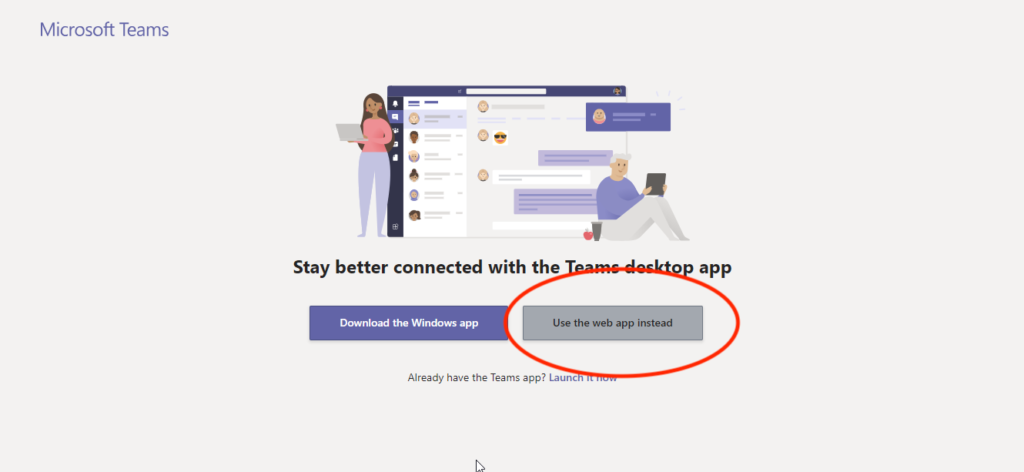 5. Once in Teams from the above link, or from the navigation bar on the far left in the Teams app, you should find the "Writing Lab" team and the "General" channel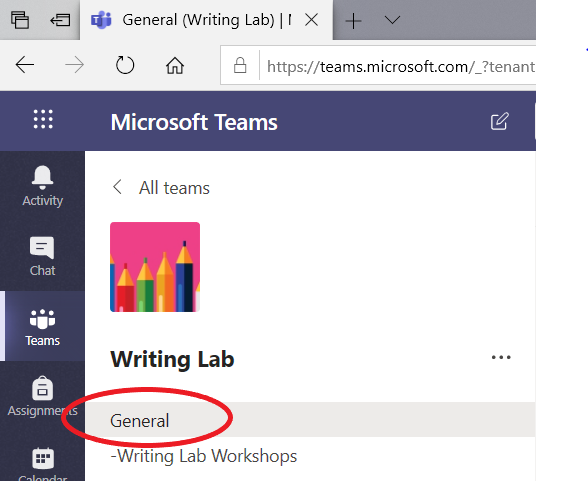 6. Then, at the bottom in Posts, click the button that says "New conversation" and type a message to let tutors know you are there. For example, type "Hi! I'm here for help with an assignment." New posts added to previous posts often get missed by the Writing Lab staff, so please start a new thread in General each time you want to meet with a tutor.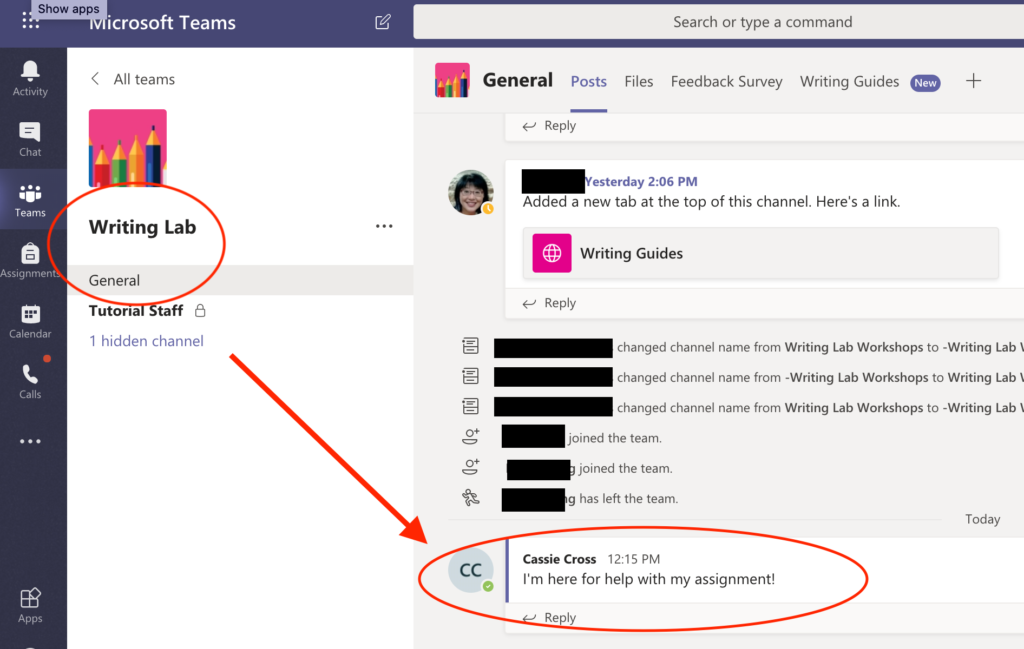 7. Your tutor will ask you some questions in the chat there. Use the "Reply" box to continue your thread, and the tutor will soon start a private meeting with you. Click the video camera icon or the middle phone icon to answer their call and start your session. Make sure your microphone is on.
If you want to communicate only by chat, the tutor will contact you for a chat directly.
Note: Do not post any documents to Teams outside of a private meeting with a tutor. The General channel Posts and Files sections are not private, and tutors will not respond to documents outside of a private meeting or outside of our business hours.

8. Once in a meeting with a tutor, in the black or video area of your meeting, you can click a floating menu that has the Share Screen button to show your tutor your assignment directions or essay prompt, and your writing.
You may also turn on or off your camera and microphone (icons to the left of the share screen icon)

9. When you click the Share Screen icon, little images of your computer's programs that are open will appear in another area. Click only the program you want the tutor to be able to see. The tutor will be able to only see your selected apps or documents. You will have control to make any changes to your writing. Make the view of essays enlarged (more than 100% scale) to help the tutor read your work more easily.
10. When you have finished your session with the tutor, click the Hang Up button (the far right horizontal phone icon), return to the Writing Lab team General channel, and click the "Feedback Survey" tab to let us know about your experience.

For more on how to access Teams, click HERE
We look forward to meeting with you!
Last Updated March 4, 2021