The Bellevue College Integrated Student Supports (ISS) Workgroup helps identify and develop transformational, student-centered opportunities across campus and removes barriers to close the equity gap.
Mission
The Bellevue College Integrated Student Supports (ISS) Workgroup is focused on identifying and developing transformational, student-centered opportunities across campus and removing barriers to close the equity gap.
Vision
The ISS Workgroup aims to accomplish our mission by:
Utilizing student voice to inform the work of ISS.
Ensuring students have an integrated experience throughout their engagement with BC, from initial interest to graduation and beyond.
Identifying and connecting students to support services in a coordinated, strategic, and equitable manner based on student need.
Collaborating across campus to break down silos and better support student success, close equity gaps, and provide a better experience for the students of Bellevue College.
Providing faculty and staff across the college with the knowledge and information to guide students to resources that can help their success.
Leveraging technology to better serve and support students thereby building trust across support provides and bringing people together.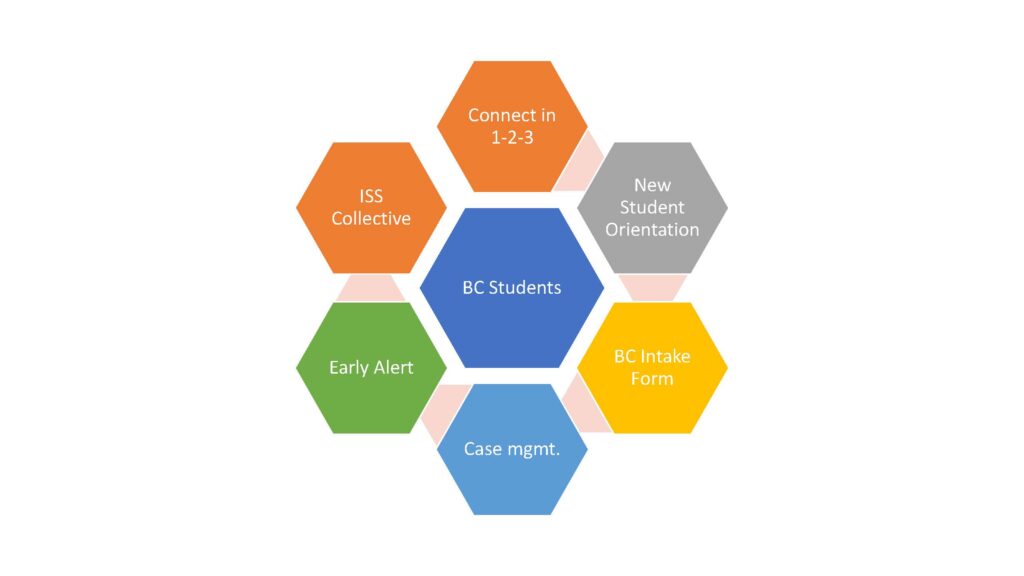 ISS helps BC faculty and staff support students through:
Admissions
Placement and testing
Orientation
Advising
Early Alert
Intake Form
The ISS Collective is a group of BC employees who engage in improving these processes through communication and collaboration.
Latest from the ISS Collective
Watch a Recording of the Latest ISS Collective
The Winter 2022 ISS Collective was held on Wednesday, March 16th. It featured:
Updates regarding BC Pathways Workshops
Scholarship updates
ctcLink and where we are now
Transitioning back to campus and managing stress, anxiety, and learning to be together again
Watch the latest ISS Collective (Winter 2022)
Note: You must log in with a Bellevue College account to view the recording.
Prefer to scan through the content? Check out the Winter 2022 ISS Collective Newsletter on Sway.
ISS Workgroup Initiatives
The Integrated Student Supports workgroup helps close equity gaps by clearly communicating important new student processes to students, making new student processes engaging and interactive, and providing college resources and services that proactively outreach to students, rather than putting that burden on the students themselves.
Learn more about specific initiatives at BC:
Connect in 1-2-3 helps students get started at BC. It is a collaborative effort that intentionally links back to the Connect stage of the Bulldog Trail, which covers admissions to being prepared on Day One. Students follow a three-step process that helps them prepare for their studies. The steps include:
Applying to the college and creating a NetID
Establish placement
Completing new student orientation
Better preparation and onboarding of students also means more effective and meaningful appointments with support staff, such as Academic Advisors.
Goals for the 2022–23 Academic Year
Update application, placement, and orientation materials to reflect ctcLink verbiage and changing processes at Bellevue College.
Title III funds were used to redesign Online New Student Orientation. The goal of the updated Online NSO was to make it more engaging and interactive for students while also providing critical information and resources to prepare them for their time at BC.
The Online NSO includes a video, modules covering student resources, placement, testing and transferring credits, BC Pathways, career pathway information and exploration, campus policies, how to pay for college, tips for success, and step-by-step registration information.
Updates for 2022–23 Academic Year
New Student Orientation are now a combination of online and in-person.

As of Winter 2022, this is now housed under

Advising.
The Intake Form is provided to students during both the in-person and online New Student Orientation. This form is designed to gather information about the student so that campus departments and resources can then proactively reach out to the student rather than the student having to search for the services. Staff members will be able to provide equitable services by identifying areas of need to support students' academic success and professional development.
Goal for 2022–23 Academic Year
Follow process in development for intake form which is currently being piloted with DRC and TRIO.

Expand to other service areas noted in Intake Form question.
The Academic Advising structure of the college is moving from one that has largely reactive model (depending on students to outreach to advisors) to one that is a proactive, pathway model in which advisors manage a caseload of students. This transition is facilitated by the use of a Customer Relations Management (CRM) tool, specifically TargetX.
TargetX has the ability to sort students by Pathway, assign them to advisors and for advisors to run various reports as a way to proactively connect with students for a variety of reasons (e.g. kudos for students who have seen a GPA improvement, to outreach to students without an education plan on file). Notes, education plans, emails, calls, and attendance at events and appointments are saved within TargetX, thus documenting their journey throughout Bellevue College
Goals for the 2022–23 Academic Year
Convened new group from Advising stakeholders to review processes, procedures, and next steps for Case Management using TargetX.
Early Alert for Academic Support is a student success initiative, that proactively integrates and coordinates campus programs, support services, faculty, and staff in support of closing the equity gap. Early Alert was piloted in Spring 2020 in response to COVID-19 before the full program was developed. The program processes and procedures were developed throughout the summer.
The full program has been implemented as of 2021-2022. Now faculty have the opportunity to submit an Early Alert for a student in their class who demonstrates academic distress regarding one (or more) of the following criteria:
Never attended class

Missing classes/stopped logging in to Canvas

Missing assignments

Low performance on testing
To submit an EA form for a student or to catch up on the quarterly updates newsletter, visit the Early Alert homepage. Once an alert is submitted staff are instructed to reach out to the student via email and/or phone calls to check-in and provide support and resources.
Goal for the 2022–23 Academic Year
Develop EA surveys for students (who received an Early Alert) and faculty (who submitted an alert) during academic year 2021-22

.
A professional development event is held quarterly to which all faculty and staff are invited. The goal of the ISS Collective is to increase communication, collaboration in an effort to support building capacity and ensuring all faculty and staff have the information and resources needed to best support students and move the student success agenda forward.
Goal for the 2022–23 Academic Year
Pause on ISS Collective to evaluate/regroup.

R

esume offering quarterly

live events that all campus can attend beginning in Winter 2023.
For more information, contact Melissa E. Martinez, ISS Workgroup Lead.
Last Updated September 2, 2022