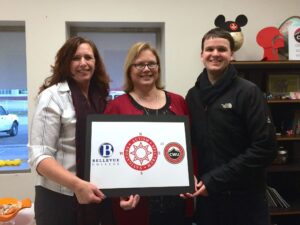 March 19, 2015
by JOSH STILTS,  Bellevue Reporter Staff Writer 
This spring Bellevue College and Central Washington University are partnering to expand services and educational opportunities for autistic students at the Ellensburg campus.
Four years ago, Bellevue College faculty created Autism Spectrum Navigators as a way to support autistic students in accessing college programs, services and improve communication with instructors.
Since 2011, students in the program at Bellevue College have been able to attend support meetings each week with trained peer mentors to help with group classes and discussions, their parents have been able to receive training and they've been able to fin assistance with community engagement and education.
Sara Gardner, ASN program director and instructor, said the program has helped dozens of students achieve their academic goals at Bellevue College and now the she and other members are helping Central Washington implement the same program protocols to create a similar network for dormitory living and other situations that may not exist at BC's commuter-college setting.
"As a greater number of autistic students enter higher education each year, it's imperative that institutions are prepared with programs that work and do not place undue financial burdens on students and families," Gardner said.
With more than 200 autistic students enrolled in Bellevue College and the history of success in providing support through ASN, she said it's the college's duty to share their information so that others can succeed as well.
"It just makes sense for BC to share this knowledge with other institutions so that other students can also benefit," Gardner said.
Wendy Holden, CWU's director of student disability services, said the program will go a long way in helping students build a foundation for success.
When BC developed ASN, Gardner said it was done with four areas of focus: executive functioning; social interaction; self-advocacy; and self-regulation.
As students in the program increase their self-knowledge in these focus areas they're also increasing their ability to balance college academics and career preparation as well as life beyond college, she said.
At least six other schools have shown their interest in implementing ASN at their institutions with more requests coming in regularly from across the country, Gardner said. 
Last Updated April 13, 2015