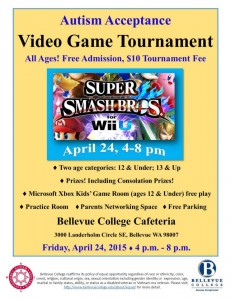 Bellevue College will hold the fourth-annual Autism Acceptance Video Game Tournament Friday, April 24 from 4 p.m. – 8 p.m. to increase understanding about autism and raise community awareness of its innovative Autism Spectrum Navigators program, which provides access support for autistic students in the classroom and on campus.
Admission to the event is free and for just $10, players of all ages can enter and compete in a Nintendo Wii U Super Smash Bros. tournament, with prizes handed out to the top competitors, including prizes from the Microsoft Xbox Development Team, Big Fish, Suckerpunch Productions, and ArenaNet among others. All video game equipment will be provided.
Other attractions include:
·
An Xbox Kinect Kids' Play Room, hosted by the Microsoft Xbox Service Delivery Team
·
A practice room
·
A parents' networking area
Bellevue College created the
Autism Spectrum Navigators
program in 2011 to help autistic students successfully gain access to campus programs and services. Students in the program utilize a network of support, including meetings each week with trained peer mentors and participation in cohort classes along with their chosen programs of study. Other colleges are taking notice: Central Washington University partnered with Bellevue College and started their own Autism Spectrum Navigators program this spring. BC is currently in talks with several other colleges and universities interested in bringing the ASN program to their campuses.
"Part of our mission is to educate the campus and community about autism spectrum disorders to dispel the myths that abound about autism. Autistic students deserve to be recognized for the diversity and strengths they bring to our community," said
Sara Gardner
, the program's director, who has been diagnosed with an autism spectrum disorder herself.
WHAT:
  Fourth-annual Autism Acceptance Video Game Tournament
WHEN:
  Friday, April 24; 4 p.m. – 8 p.m.
WHERE:
  Cafeteria, C Building, Bellevue College, 3000 Landerholm Circle SE, Bellevue, WA
WHO:
  People of all ages and abilities are welcome to participate in the tournament
COST:
  Free admission to event; $10 fee to participate in the tournament
PARKING:
Free on the Bellevue College campus after 3 p.m.
Last Updated April 18, 2015