The tutoring center is located outside of full-time faculty offices in C207k and offers tutoring in accounting, economics, business law, and business statistics. In any given quarter, we have about 10 student tutors. Additional tutoring is sometimes available in D204.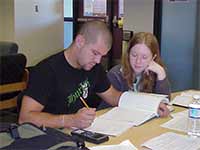 The tutors work on a one-on-one basis to support students in their learning. They provide an alternative to students who may find consulting with a faculty intimidating.
Frequent consultations and close proximity to full-time faculty provides support to our tutors. Faculty makes a special effort to mentor our student tutors and provide career opportunities for them through our network of contacts.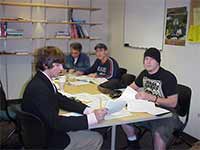 Even at times when the tutors are not available, business students appreciate a space where they are congregate and collaborate. Many students find study groups and partners in our tutoring center. They also consult with each other on course selection and career decisions.
Our tutors have been our most loyal contingent of alumni and we continue to follow their careers with much interest and pride.
Last Updated March 8, 2022