The Center for Career Connections offers networking workshops every quarter, including a popular workshop on using LinkedIn.com to develop your career. Check our workshop schedule for dates, times, and location. And look for our LinkedIn Group called "Bellevue College – Center for Career Connections."
On-Campus Recruiting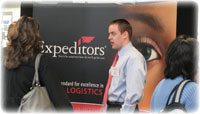 The Center for Career Connections often sponsors employer booths in the cafeteria. Nearly every week, new employers are on campus to recruit students. Please drop by the cafeteria to meet them.
Annual Job Fair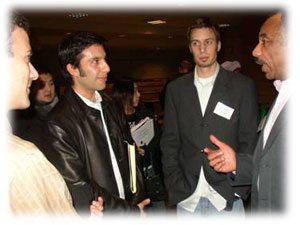 The Center for Career Connections sponsors an annual Job Fair that is usually held in the middle of spring quarter. Last year, over 50 employers in various industries attended. Look for more information on our website and around campus as the Job Fair approaches, or call our front desk at (425) 564-2279.
Job Fairs are not just for finding a job. They are forums to learn about companies and what they are looking for in applicants. The trick is to know how to "work" the fairs to uncover this information.
Company recruiters and Career Specialists offer
these tips for attending job fairs:
Before the Job Fair:
Do some online research on the organizations that might be of interest to you.
Once you have selected organizations, be prepared to explain why you want to work for their organization.
Be prepared to ask questions of the representatives. Write your questions down and practice them out loud.
Know what jobs and/or internships you seek and know what skills you can bring to a company.
Identify specific experiences that have demonstrated your strengths. Give specific examples of your skills. Doing this will make you a stronger candidate.
---
During the Job Fair:
Make eye contact immediately when introducing yourself.
Give a firm handshake (but not too firm) to everyone you meet.
Remember the representative's name. If you forget, casually refer to their name tag.
Smile and be polite. Enthusiasm is important.
Dress nicely: Business casual attire is acceptable. You are making your first impression. A suit is not required but torn jeans will not make the right impression.
Turn your cell phone off.
---
Body Language:
Keep your body calm – do not fidget, play with your hair, or rock from side to side.
Keep your focus on the interviewer – do not look around when talking or being spoken to.
Keep a positive facial expression, smile occasionally.
Do not chew gum or tabacco.
---
Communication:
Listen carefully to what the representative has to say.
Avoid using filler words such as "um," "like," or "you know."
Show confidence in your voice. The room may be noisy, but if they can't hear you they won't remember you.
Bring an updated resume. If for some reason you can't bring one, offer to send it by email.
Ask for a business card or write down the representative's name.
At the end of the interview, ask about the hiring process and next step.
---
Explore all your Options:
Speak with organizations that you have not considered or heard of before.
Take the initiative and engage in meaningful conversations with representatives. They won't remember you if your conversation is overly generic.
Representatives are there to provide information about their organizations and career fields, so don't be afraid to ask.
Representatives are excellent resources in your career search and decision-making process.
---
After the Job Fair:
Email a thank you note. It can bring attention to your name and help them remember you.
Send an initial or additional resume along with your thank you note, and point out your strengths again.
If calling, be prepared and know what you are going to say beforehand. In other words: practice! Also, be respectful of their time.
Additional Resources
Informational Interviewing [PDF]
Gain information about careers and specific jobs by interviewing professionals who work in them. And, and it will help prepare you to network like a pro.
LinkedIn
This is the premier professional networking site. It is also great for doing company research. Use it to target companies and people in your field of expertise. This is the best place to locate and setup informational interviews.
Seattle Networking Groups & Events
Community groups, events and calendars for professional, civic and social networking.
Last Updated February 2, 2023