Why should I create a Student NetID?
Your NetID is your electronic identity at Bellevue College. Your NetID is a combination of a username** and password which allows you to log in to online and computing services such a e-mail, Canvas and computers on campus. Setting up your NetID is something you should do as soon as possible after you apply for admissions and receive your welcome letter.
You'll use your NetID to access important college services such as:
BC e-mail – all important information from the college will be sent to your BC email address
MyBC, college web portal
Course sites (Canvas)- As a College in the High School Student you will access a course site only to complete an evaluation of your course
How to set up your NetID
Once you've been issued your college SID (system identification number) and PIN (password), you'll need to create your NetID (which is your user name and email address) as follows:
Step 1: Go to Create NetID
Step 2: Select "Create Your Account".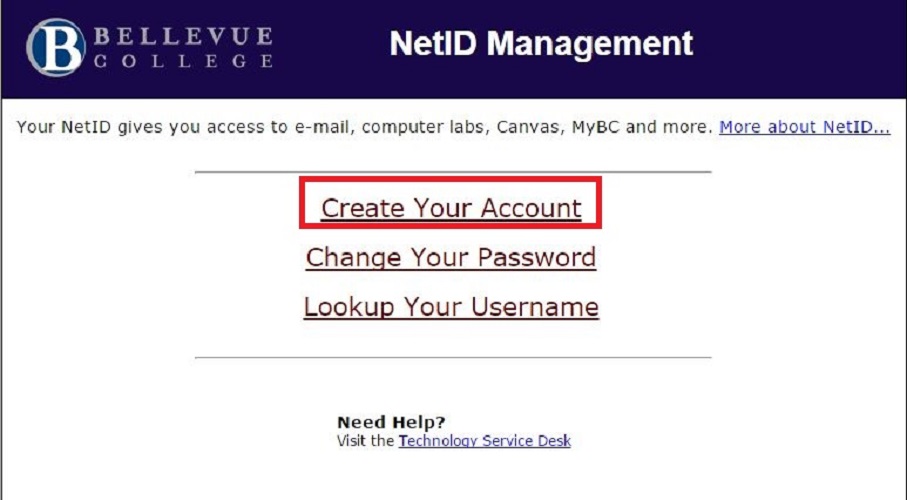 Step 4: Create your account using the Bellevue College Student ID (SID) and the Personal Identification Number (PIN) that were emailed to you in your welcome letter. Then, using the drop down menu, enter your birthdate (month, day and year) and press submit.


Note: It can take from 24-48 hours for your account to become active.
You will use your NetID to access to your Bellevue College email, Canvas/course evaluations, and MyBC.
**Username format
All users receive a user name based on first and last name. The username format is: firstname.lastname. Your username becomes the first portion of your e-mail address, for example firstname.lastname@bellevuecollege.edu.Create NetID
Last Updated September 14, 2016