Bellevue College provides a variety of student support resources and tools. Academic, Advising, Financial Aid, Training, Administrative, and Technology. Whether you are a student Online, Hybrid, or On the ground, we are here for your Student Success!
Academic Resources
Library Media Center
The Library Media Center (LMC) has a great variety of different resources which include books and media, databases, journals and ebooks, and more.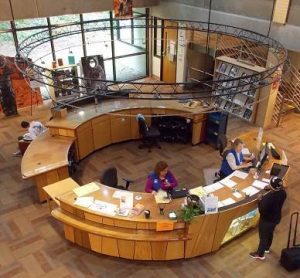 Tech Hub
Located in the center of the Library Media Center, Our Tech Rovers are work-study students, who will answer technology questions and assist students with:
Logging onto Canvas and other BC websites
Canvas – uploading files, taking a quiz, finding the syllabus, checking calendar dates, setting up your profile and notifications
Microsoft Outlook, Word and Excel – how to use desktop software
Where to find Library Resources
Collaboratory Space
The Collaboratory, located on the first floor of the library, is a public use space designed for flexible student collaboration and teamwork. The Collaboratory is primarily a student space, but may be occasionally reserved by faculty and staff for designated activities.
For more information, please see our detailed Collaboratory use procedure.
Academic Advisors at Bellevue College supports you with fulfilling your educational goals.
If you would like to meet with the Online Advisor, please contact the Online Advisor or schedule an appointment by following the directions listed on the Advising website: Ask Us
Academic Success Center provides the following tutoring services: Reading Lab, Writing Lab, Math Lab, and Workshops.
If you can't come on campus, we have eTutoring service available for you. An online tutoring platform allows tutors to work with you synchronously and asynchronously.
The Disability Resource Center (DRC) at Bellevue College is fostering transformational change to present disability as a valued part of life. DRC provides a wide variety of accommodation services for students with documented disabilities.
Counselors can assist you with a wide variety of personal life challenges or any other concerns that may be impacting your academic performance. The Counseling Center provides the following services: Personal Canceling, Group Counseling, Career Counseling, and Educational Counseling.
Financial Aid and Assistance
The Financial Aid Office can help you with applying for financial aid and checking your application status. Visit the Financial Aid office website for information such as application deadlines and to check your financial aid application status (grants, loans and work study).
Scholarships
The Center for Career Connections and Women's Center has a variety of resources to provide you with the necessary tools to navigate the scholarship process. You will find scholarship opportunities including college scholarships offered through the BC Foundation.
At Bellevue College, you can sign up for the automatic tuition payment plan. It is important to note there are quarterly deadlines to sign up for this plan.
The Food Stamp Employment & Training Program provides financial assistance for approved training programs to adults who currently receive food stamps from DSHS.
Administrative Resources
The Student Central helps you navigate around Bellevue College and provides answers to the questions about all the available departments and services on campus.
Online services include the following useful links and information: Popular Resources, Registration, and Registrar's Forms, Records and Grades, and Student Accounts.
The Center For Career Connections provides comprehensive career resources for all stages of your academic and professional career. Career planning can help you match majors to occupations.
At Student Programs, leadership and engagement are the keys to your success. By encouraging personal connections and exploration, Student Programs can help become confident world citizens. Explore student organizations, find events and activities and learn about leadership training.
At Bellevue College, you can purchase textbooks and more at our BC Bookstore or order them via BC Bookstore website.
Bellevue College policies and procedures provide an institutional perspective on many important issues for college management and governance. They also provide a context for action and thoughtful decision making.
Technology and Canvas Services
Bellevue College Technology has a website, with the resources that include information about Bellevue College email, accounts and passwords, computer labs, how to get help with Canvas and more.
Login to Canvas the learning management system used at Bellevue College
Canvas is BC's Learning Management System. If you experience any technical issues with campus technology or Canvas login issues, Information Technology Service Desk is here to support you. Contact information is posted on their website.
Vendor: EvaluationKit
Website: http://www.evaluationkit.com/
Evaluation Kit online course evaluations are a quick way to give feedback on your online courses. Evaluations make a difference in helping deans, chairs and faculty enhance course content.
Looking for more information, forms, or links to getting started? Check out the Student Services page.
You are provided with the links and tips for smooth sailing on your first day. Plan ahead and follow the Seven Prep Steps: Create your NetID; Purchase your books; Review the BC attendance policy; Check your technology; Attend a Student Canvas Training session; Access your online course, and review the Student Central Website.
This is an in-depth, hands-on "How to Navigate Canvas" at Bellevue College. For students new to online learning at Bellevue College, a free, non-credit training, self-paced with daily tasks online over four days. Advanced registration is required. Experienced online instructors facilitate these Workshops.
Our Canvas Live 60-minute online training introduces new students to online education to learn strategies for student canvas success in an hour. Offered the first five days of each quarter via Zoom.
Looking for quick Canvas tips? Canvas Student Guide, or Canvas Student Android Guide, or Canvas Student IOS Guide.
Looking for more detailed information about Canvas? Visit the Canvas video collection.
Review the browsers that Canvas supports and learn more about basic computer specifications.
---
Checking your BC email is very important! We have resources to help you set up your email and connect it to your mobile device..
Cheating, stealing, and plagiarism are violations of the Student Code of Conduct at Bellevue College. Violations could result in a failing grade for a particular assignment, a failing grade for the course, or dismissal from Bellevue College. Online courses in Canvas have Plagiarism detection software called Turnitin.
We have a large collection of library resources and databases for you. Check them out on our Library Media Center website.
These tutorials provide information on citing commonly used resources in the APA and MLA styles.
---
The purpose of the Reading Lab is to provide a place where you can practice reading skills, especially reading comprehension, speed, and vocabulary.
The purpose of the Writing Lab is to provide a place where you can improve your revision skills.
The Math Lab provides free drop-in tutoring if you are currently enrolled in mathematics courses by the Bellevue College Mathematics Program.
---
Get tips on how to use Canvas
Follow, share, and participate in this community of students, faculty, instructional designers, and administrators. Suggest your ideas, get votes from your peers and watch the idea get incorporated as a feature in your Canvas environment.
Khan Academy offers over 3,000 free videos tutorial covering different subjects.
The Online Writing Lab (Free Web Resources Purdue OWL) at Purdue University houses free writing resources and instructional material for students and instructors.
Last Updated October 25, 2022