This 60-minute Live online Student Canvas training introduces new students to online education to learn strategies for student canvas success in an hour. Offered the first five days of the quarter, Tuesday, July 5th through Monday, July 11th at 11:00 am and 1:00 pm.
No registration is needed. Use these Zoom instructions to join our session.
Summer 2022
11:00am – 12:00pm
Link for Zoom Online session 7/5-7/11
1:00pm – 2:00pm Online
Link for Zoom Online sessions 7/5-7/11
Starts Tuesday 7/5/2022
Ends Monday 7/11/2022
See you soon!
Students will have familiarity with the following Topics:
Canvas Access: NetID
Canvas Orientation: Global Navigation, User Settings/Profile, Dashboard/Card view, Courses, Groups, Calendar, Conversations, Help
Canvas Basics: Syllabus, Home, Modules: Content, Assignments, Discussions, People/Groups, Quizzes, Grades
Canvas Student Success Resources: Student Guide
Additional Resource Navigation: Office 365, Email, Website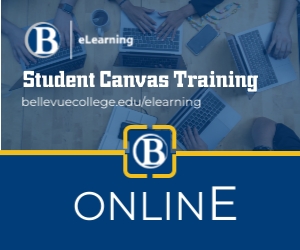 The eLearning department provides Student Canvas Training at Bellevue College in three ways:
Instructor-Led Online Workshop
eLearning website: https://www.bellevuecollege.edu/elearning/
Email: studentcanvastraining@bellevuecollege.edu
Twitter: @CanvasStudent
Awarded Financial Aid? Looking for a flexible job while you develop new skills and support Students? Great! Work-Study students apply to be an eLearning Project Assistant.