State and Institutions Participating in SARA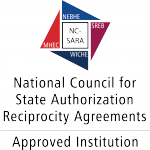 Bellevue College is a member of SARA, a regional compact recently unified under a national "Unified State Authorization Reciprocity Agreement" (SARA). This nationwide initiative makes online courses more accessible to students across state lines and make it easier for states to regulate – and institutions to participate in – interstate eLearning education.
NC-SARA maintains a list of states and institutions nationally participating in SARA. The State Authorization Reciprocity Agreement is an agreement among member states, districts and territories that establishes comparable national standards for interstate offering of post-secondary distance education courses and programs.
For more information, please visit the SARA site describing Student Benefits or the individual State Actions Regarding SARA
Before offering classes via online/distance to students who reside outside Washington state, Bellevue College, like all other higher education institutions, must obtain authorization from those states in order to offer classes to their residents. At this time, due to extraordinarily high costs to obtain authorization, and/or other limiting factors –
We regret that Bellevue College cannot offer distance education classes to students who live in Puerto Rico.
Other states like CA, may have restrictions for certain online programs that require licensure and/or internships, externships, clinicals and practicums. Please contact the Program or Student Registration Office for more information.
Students residing outside of the State of Washington while attending Bellevue College through electronically delivered classes who would like to resolve a grievance should review the Student Dispute Resolution Procedure and contact the appropriate division office. However, if an issue cannot be resolved internally, you may file a complaint with the Washington Student Achievement Council.
The Washington Student Achievement Council (WSAC) has authority to investigate student complaints against specific schools. WSAC may not be able to investigate every student complaint. Visit Washington Student Achievement Council Complaints for information regarding the WSAC complaint process.
SARA institution.
Professional License
Students from outside the State of Washington, who are considering a program of study that may lead to professional license, should contact the appropriate licensing agency in their state of residence before beginning a course of study.
Clinical experiences and internships are also addressed in the SARA participation. SARA member institutions can accept students from other SARA member institutions. Under the Unified State Authorization Reciprocity Agreement (3.4.3), experiential learning opportunities include, such as a clinical, practicum, residency, or internship, provided that the institution has already obtained all the necessary professional and licensure approvals necessary (if any) to conduct the learning opportunity in the state, and only 10 students in the same academic program from each institution are physically present simultaneously at a single field placement site unless a higher number is approved by the host state's portal agency.
For your convenience, please check on the licensing requirements for the state where you will seek employment. If you experience difficulty finding the license requirements for a specific state, please contact the program's advisor for help.
State Authorization Reciprocity Agreements Policy and Operations Manual
Teacher Education: Directory of Certification/Licensure Offices
Nursing: Directory of State Boards Offices
For states denoted by an *, please check the state website for updated information.