Bloom's Taxonomy
In 1956, Dr. Benjamin Bloom created a taxonomy for what he termed significant learning. The taxonomy was updated in 2001 to reflect the following stages of significant learning: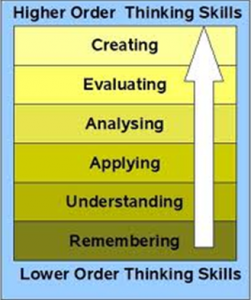 Just as with face-to-face classes, designers of online courses should not be satisfied with course activities and assessment strategies that determine only that a student can remember and understand content. Effective online courses are those which guide students through the application, analysis and evaluation phases until they can demonstrate the ability to plan and create using course concepts. Movement from remembering to creating is an active process which requires an active learning environment.
Creating an active learning environment in online courses presents different challenges than those posed by a face-to-face learning environment. Busy work must be eliminated in favor of course activities and assessments that move students from remembering to understanding, then from applying to analyzing, and finally from evaluating and to creating. The Canvas Learning Management system has many wonderful tools which allow students to actively engage with course content, course instructors and, most importantly, their fellow classmates.
Bloom's Digital Taxonomy Interactive Wheel and Knowledge Dimension
Credit: EducTechalogy
---
Read About Using Canvas Tools to Promote Active Learning
or
Last Updated October 21, 2020