Our institution is fully committed to teaching and learning excellence. In support of that goal, students are asked to supply feedback to the institution on each course they take, prior to the end of every quarter.
Survey Timeline
2020-21
Fall 2020
Winter 2021
Spring 2021
Summer 2021
Evaluations Open

November 23, 2020 (midnight)

March 8, 2021 (midnight)

June 8, 2021 (midnight)

July TBD 2021(midnight)

Evaluations Close
December 7, 2020 (11:59 pm)

March 22, 2021 (11:59 pm)

June 22, 2021 (11:59 pm)

August TBD, 2021 (11:59 pm)

Report Access

December 16,2020

March 30, 2021

June 30, 2021
August TBD, 2021

Tenure Report Due Dates 3rd& 4th Yr
3rd – November 20, 2020
4th – November 20, 2020






Tenure Report Due Dates 1st & 2nd Yr
1st – April 28,2021
2nd – March 5, 2021
These are the dates for the majority of student course evaluations; however, there are a few exceptions.
Survey Process
The Office of the Provost for Academic and Student Affairs manages the student course evaluation process.
The college uses Evaluation Kit as our online survey system to collect that information.
Student access their course evaluations in three ways:

An email message with a link to surveys for the classes they are enrolled in will be sent to their Bellevue College email address.
If students have not completed their course evaluation they will see a pop-up message with a link to the survey when they log into Canvas.
There is also a Student Evaluations survey link in Canvas, located on the left navigation menu.

Email reminders will be sent to students and instructors during the survey period.
Instructors receive an email communication with a link to their courses. The link can be used for monitoring response rates throughout the evaluation time frame and to review survey results for their courses after all grades are posted.
Student Course Evaluations
Information for Faculty
In 2015, the college selected Evaluation Kit as our online student course evaluation solution after a yearlong review of six course evaluation system vendors. The secure EvalKit online system allows students to access their course evaluations 24/7, during the open evaluation period. The course evaluation form includes both close-ended responses and a few open-ended direct feedback responses. Student participation is completely anonymous and all responses are absolutely confidential.
EvalKit is integrated into Canvas, our online course learning management system, which means students receive automated reminders about their evaluations in addition to email communications. Survey access is organized and controlled for each student. Using their own Student Dashboard, they only view evaluations for courses they are enrolled in. With the mobile interface, students can also access their evaluations from any mobile device.
This page provides faculty with information about the course evaluation process. Because course evaluation data are important, both to instructors and to the institution, we seek to continually improve the response rates for course evaluations. We ask you to encourage students to evaluate their courses.
Course evaluation summaries and detailed results, are easily accessible for both instructors and administrators within areas they oversee or for courses they teach. Reports will be available after all grades are posted.
Frequently Asked Questions: For Faculty
How do I access the course evaluation system?
When do evaluations open and close?
Can I submit my own course-specific questions?
When will results be available?
How do I access my reports?
What if I need course evaluation reports from years ago?
How can I increase response rates?
What if I have questions or need help?
---
Faculty Evaluation Access Guide
Have questions? Need guidance? There are "How to for Instructors" mini tutorials available for you to access that include:
Evaluation Basics
Evaluation Communications-what you will receive
Accessing Evaluation Reports
EvaluationKit Dashboard
How to Enable Evaluation Links in Canvas (Optional)
These tutorials can be found in the (MyBC) SharePoint site. Find the information need under your "Group", i.e. Dean, Instructor or Division Evaluation Admins.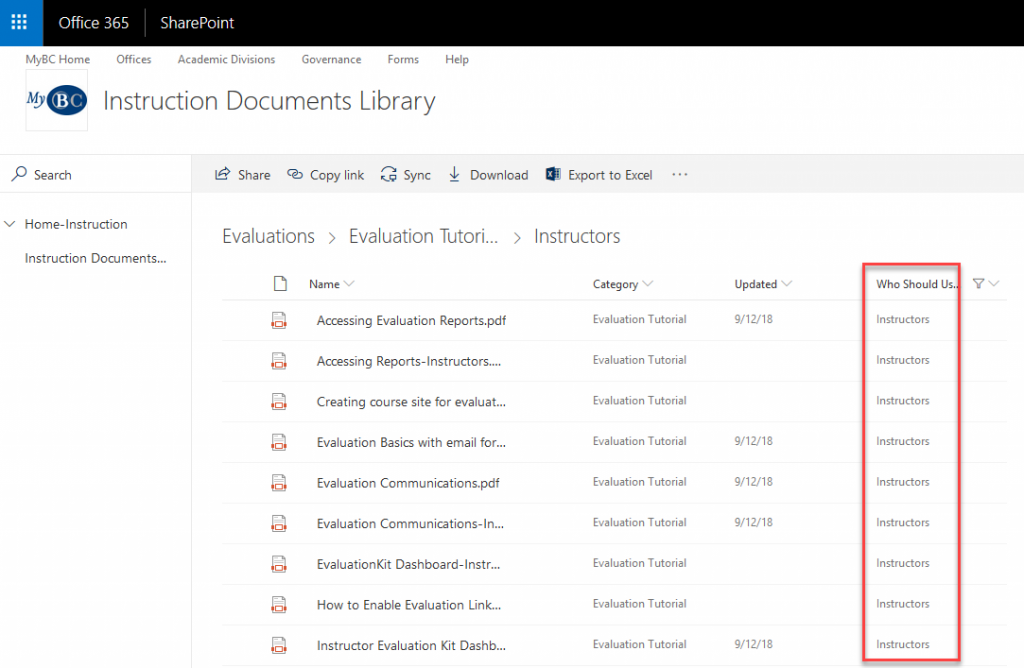 ---
Student Evaluation Access Guide
You can direct students to the Online Course Evaluation Information for tips on how to access and complete an evaluation.
All questions for Evaluation kit (EvalKit) should be directed to: evalkitsupport@bellevuecollege.edu
Above information is provided by the Office of Instruction.
Last Updated December 7, 2020