Log into Canvas, select your course.
Select "Settings" and "Export Content From this Course."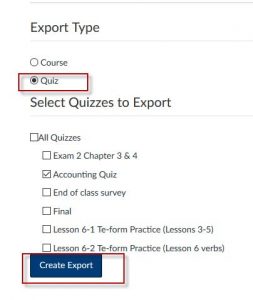 Choose to export a "Quiz," select the quiz, and choose "Create Export." The export process will begin, and it will provide you a link to download the zip file out of Canvas.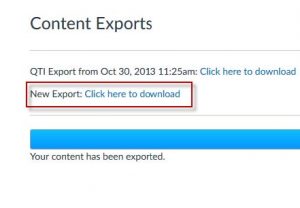 Locate the zip file on your computer after it has saved.
Extract the zip file, and locate the numbered file folder.
Within that folder there will be a similarly named XML file. You will need this XML file later.
Open up Respondus. All faculty can download a copy of Respondus on their personal laptop.
Open Respondus and select the button to Import Questions.

Change the personality to "IMS QTI 1.1+," and choose to "Import Questions."
A dialogue box will appear. You will now choose the settings to Import the questions..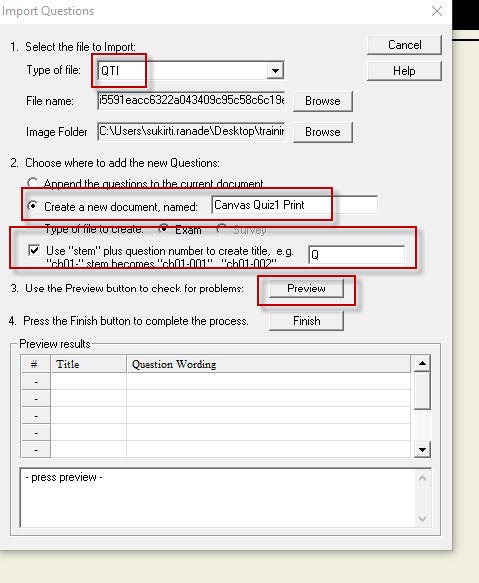 Type of File = QTI
Browse for the XML file identified earlier and as shown in the graphic below.

Create a new document named: (ex. Canvas Quiz1 Print)
Check the box for Use "stem" plus question number to create a title: eg. Q
Select "Preview" to check for errors (should come back as "IMPORTED SUCCESSFULLY")
Choose "Finish"
After you select "Finish," you will be taken to the "Edit" page in Respondus.
To print the exam and/or answer key, go to "Preview & Publish".
Use the "Print Options" (left side nav bar), and use the settings here to choose what you want to print

Exam Only
Exam w/ Answer Key
Answer Key Only

Use the settings next to each option to determine what you want your Word file to look like.
When ready, select "Save to file" at the bottom. A dialogue box will appear asking you to give the Word document a name. Save the file, and open it in Word.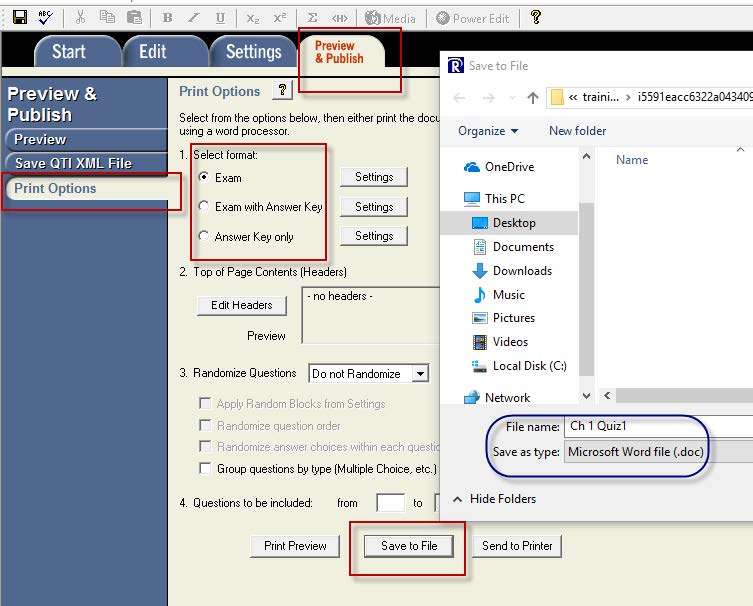 You are done. You just exported an exam out of Canvas, imported into Respondus, and exported to Word as a printable quiz.
Last Updated October 21, 2020