Some fields that specifically lend themselves to English  major's skills:
administration 
advertising
business
broadcasting 
communication
copy writing
counseling
creative writing
drama
editing
free lance writing
history
law
philosophy
politics 
psychology 
public relations 
publishing 
social work
speech
teaching (all levels)
technical writing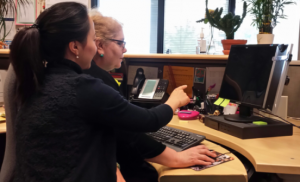 While English majors often think of teaching and writing related jobs, they may not realize how vital English is in careers such as law, psychological counseling, and the emerging fields in technology. The skills needed to become a successful lawyer–the ability to observe, analyze, define, summarize, focus, and persuade–are all analytical skills taught in English courses. Lawyers spend much of their professional time writing briefs. An English major would definitely enter this field with an advantage. The ability to observe and analyze human behavior taught in literature courses is also the same skill needed in a good psychological counselor. The ability to respond to inference and tone is also similar in the two fields. In fact, anyone pursuing a career that depends on people skills would benefit from such training. Finally, the expanding fields in technology ultimately will require more, not less, emphasis on writing skills. Employers in these fields need people with good English skills to create, write, and edit the content in the materials they produce.
Last Updated May 25, 2022