Arabic calligraphy is the artistic practice of handwriting and calligraphy based on the Arabic alphabet.
Hajj Wafaa of Kufa, Iraq, is a freelance professional Islamic calligraphist.  He has been teaching Islamic calligraphy classes in Boston since 2004. Haff Wafaa will join us on Wednesday, March 31 to teach our Arabic calligraphy workshop.
25 BC students will receive a free Arabic calligraphy set, courtesy of the Arabic Culture Student Association.
Date/Time: March 31, 3 PM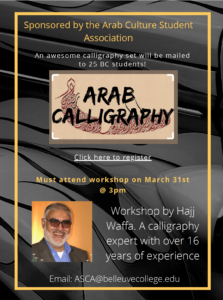 Link to attend the event will be sent to registered participants.
Event sponsored by Arabic Culture Student Association