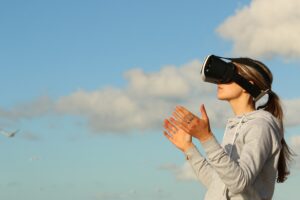 The future is here! Come to explore the tools and possibilities of VR in education. The focus of this workshop is to introduce Bellevue College faculty to virtual reality devices and applications with a view to determining how this technology can be used for teaching in a chosen academic discipline.
This short course includes demos with a variety of VR equipment and applications, as well as a long distance networked immersive world collaboration with teaching faculty in Launceston, Tasmania.
There will be a discussion and evaluation of potential uses of VR for teaching at Bellevue College. Participants will also have the opportunity to become officially approved to use the VR technology in the LMC on your own!
Location: D140 eLearning| 6 PD Hours – 12 seats
Last Updated July 15, 2018