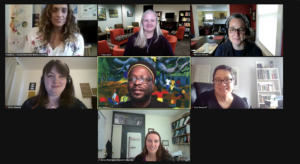 Experience the wonderful world of storytelling as pedagogy! In Why Black Lives Matter 201, we will engage with and discuss the works of famed African American storyteller Diane Ferlatte. We will also practice with The CBE Story: A Strategic Storytelling Toolkit to develop storytelling pedagogical practices that may increase the academic success of Black and other students.
The last component of the workshop will be a special project where you will take a complex course concept and explain it in storytelling format.
Poly-synchronous: 2 Wednesdays, October 27 & November 3, 1:30-3:30 p.m.
8 PD Hours | $150 stipend for faculty who complete the special project.
Last Updated November 22, 2021