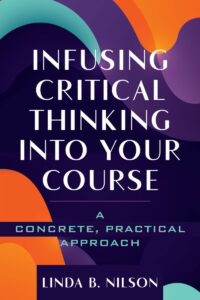 As college instructors, most of us may consider ourselves to be critical thinkers and our students to be engaged in critical thinking in our courses. Some of us are teaching courses with a critical thinking (CT) outcome, approximately 10% of BC courses, in fact. Are you confident in your definition of critical thinking, your lessons that engage students in it, and your assessments of students' ability to think critically in your discipline? This new book Infusing Critical Thinking into Your Course by Linda B Nilson leads college instructors through some of the key frameworks for teaching, learning, and assessing CT. Tonya and Zoë invite you to join us in a deep reading of this book and consider how to apply the ideas to our disciplines.
7 Fridays, 10:30 – 11:30 a.m., October 8 – November 19
15 PD Hours | $250 stipend for attending a minimum of 5 of the 7 sessions and completing a project
This book club is full. Waitlist Registration.
Please reach out to Tonya Estes, Faculty Commons, or Zoë Aleshire, A&H for questions.
Last Updated November 22, 2021