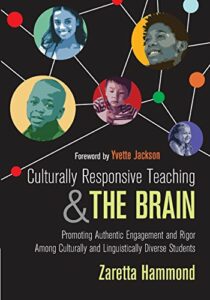 Culturally responsive and sustaining teaching practices work to close the opportunity gaps present in our educational system. These teaching frameworks bring together brain-based learning with practices that strengthen the assets of our culturally, linguistically, and neuro diverse students. Zaretta Hammond's book leads us through how culturally responsive practices impact cognitive functions, and when done well, lead to higher and more equitable students learning outcomes. Join Ron and Ahmad to enjoy some 'ah-ha' moments about promoting authentic engagement and rigor among diverse students.
5 Thursdays, 10:30 – 11:30 a.m., October 7 – November 4
10 PD Hours | $200 stipend for attending a minimum of 4 of the 5 sessions and completing a project
This book club is full. Waitlist Registration. 
Please reach out to Ron Holland, CRP Lead, or Ahmad Ghashmari, A&H for questions.
Last Updated November 22, 2021