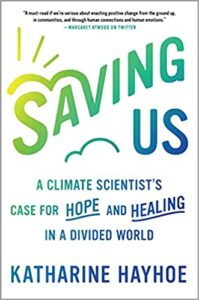 Have you ever found yourself struggling to have meaningful conversations about climate change, especially with people you care about who may misunderstand the message or distrust the science, and wishing for more effective tools to convey your ideas? Please join us to explore the ideas in "Saving Us: A Climate Scientist's Case for Hope and Healing in a Divided World" by climate scientist and evangelical Christian Katharine Hayhoe. "Called 'one of the nation's most effective communicators on climate change' by The New York Times, Katharine Hayhoe knows how to navigate all sides of the conversation on our changing planet. A Canadian climate scientist living in Texas, she negotiates distrust of data, indifference to imminent threats, and resistance to proposed solutions with ease. Over the past fifteen years Hayhoe has found that the most important thing we can do to address climate change is talk about it—and she wants to teach you how. In Saving Us, Hayhoe argues that when it comes to changing hearts and minds, facts are only one part of the equation. We need to find shared values in order to connect our unique identities to collective action. This is not another doomsday narrative about a planet on fire. It is a multilayered look at science, faith, and human psychology, from an icon in her field—recently named chief scientist at The Nature Conservancy. Drawing on interdisciplinary research and personal stories, Hayhoe shows that small conversations can have astonishing results. Saving Us leaves us with the tools to open a dialogue with your loved ones about how we all can play a role in pushing forward for change."
Fridays: October 8 & 22, November 5 & 19, December 3 & 10 from 11:30 a.m. – 12:30 p.m.
10 PD Hours | 15 seats maximum | Register to participate!
Book provided to participants at no cost (Thanks to Provost Kristen Jones for supporting the Climate Justice in the Curriculum initiative at Bellevue College).
Led by facilitators Wendy Pickering (ELI, Emeritus) and Michelle McRae (Physical Education)
Last Updated August 25, 2021