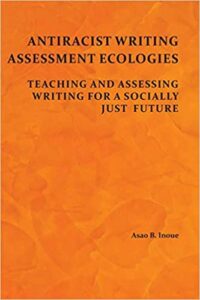 The American educational system was designed (and has been redesigned again and again) to center Whiteness and colonize the minds of BIPoC students. As agents of this system, all of us—including instructors of color— have been, and continue to be, complicit in this educational legacy. Our complicity in an unjust system says more about the ethics of the system than our morality. All of us consent to racist systems, even as we may criticize or work against them. Consequently, to be complicit in White supremacy and racism is not necessarily a judgment of our own moral codes but rather a recognition of the context in which we operate. Owning our impact as institutional actors is therefore necessary for interrupting the White supremacy culture of our minds, classrooms, and institutions.
In his book Antiracist Writing Assessment Ecologies: Teaching and Assessing Writing for a Socially Just Future, Asao Inoue posits "racism is an assessment problem, which can only be fully solved by changing the system of assessment, by changing the classroom writing assessment ecology." This workshop will challenge established assessment norms and look for ways to undermine the White Supremacy embodied in our grading standards. We hope that participants will finish the workshop with assessment tools that challenge the idea of grades and what grades are used for in their own teaching contexts.
4 Tuesdays, 2:30-4:30 p.m. October 26 – November 16
12 PD Hours | $250 stipend upon completion of the workshop deliverables.
Register to save your seat for Antiracist Teaching and Assessment. We have 8 seats available!
Please contact Zhenzhen He-Weatherford or José Aparicio, A&H, for more information.
Last Updated November 16, 2021