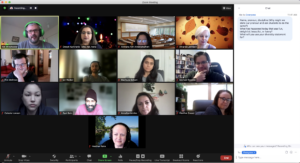 Do you have a current Diversity Statement? Can you articulate your commitment to diversity, equity, and inclusion in writing? What about in an interview? A Diversity Statement is now a requirement for any employment in Higher Ed and articulating your commitment to diversity and equity is also important for promotional purposes. This 2-session workshop will focus on the types of information commonly looked for in faculty diversity statements.
We will also provide opportunities to build your understanding of diversity and reflect on your positionality. Sample statements and rubrics will be shared with participants.
2 Thursdays, January 20 + February 3, 11:30 a.m. – 12:30 p.m.
3 spaces left: Register  to hold your spot and receive pre-workshop homework.
For more information, contact Deepti Karkhanis, Social Science.
Last Updated January 17, 2022