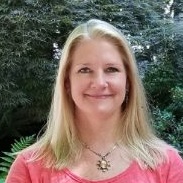 Biography:
I began my teaching career in 1989 while living in Szeged, Hungary. I was finishing my undergraduate degree from the Evergreen State College with an independent study contract, experiencing the cultural impact of the end of Communism there. I taught English to support myself and realized I loved grammar, language, and connecting with students. I earned my Masters in Teaching English to Speakers of Other Languages in 1992. Since then, I have taught Intensive ESL, Developmental English/ESL, ABE/ESL, and ABE/GED. In 1999, I had the good fortune of teaching students and teachers in Chengdu, China, and traveling to Tibet.
I came to Bellevue College in 2008 and in 2009 was offered a full-time position in the ABE/GED program. From 2009-2016, I lead and chaired the program's 4-fold growth. We incorporated UDL, Reading Apprenticeship, NROC, FELI (affective domain), and wrap-around support services throughout our program to impact our students' educational success. I believe in the importance of integrating data-supported, brain-based methodologies into our instructional tool boxes.
The Faculty Commons is an inspiring resource on our campus. I have been a mentor to first-year tenure faculty since its inception, participated in countless one-day and quarter-long workshops, and used the Faculty Commons as a place to organize regular collaborative meetings with ABE colleagues. I am honored to serve as its Chair.