Join us for our upcoming events!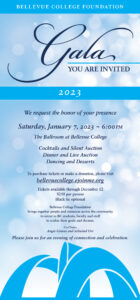 Bellevue College Foundation Gala- January 7, 2023, 6:00 PM
The Bellevue College Foundation Gala will take place on January 7th, 2023 on the Bellevue College campus at the Ballroom at Bellevue College.
Visit- https://bellevuecollege.ejoinme.org for more information and to register today!
---
Recent Events: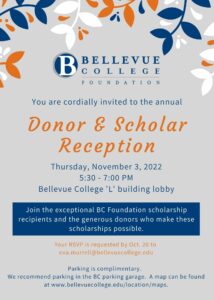 Donor and Scholar Reception- November 3, 2022, 5:00 PM
The Foundation will host the annual Donor and Scholar event in person for the first time since 2019.  Foundation scholars and donors will join at the L building for an evening of connection.
Email eva.murrell@bellevuecollege.edu for more information.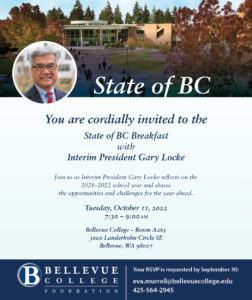 State of BC- October 11, 2022
The Foundation hosted the fifth annual State of BC event on October 11, 2022. The Foundation donors, as well as our Corporate Partners, heard comments from Interim BC President, Gary Locke. Interim President Locke will provided a review of the past year's successes, opportunities and goals for the upcoming 2022-2023 academic year.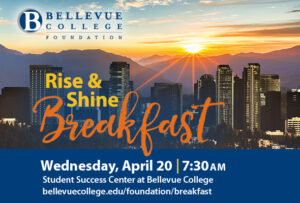 BC Foundation Rise & Shine Breakfast- April 20, 2022
For the first time since 2019 the Foundation hosted an in person fundraising breakfast.  Approximately 200 people attended a motivating, impactful and success morning.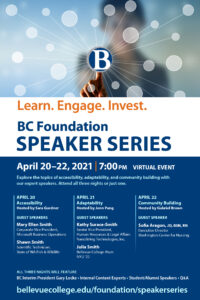 Learn. Engage. Invest. BC Foundation Virtual Speaker Series
April 20-22, 2021
In place of our annual Luncheon, this year the BC Foundation hosted a Virtual Speaker Series. This three-night series will feature both internal and external speakers of a variety of themes. It was a successful event that shined a light on many impressive BC programs, faculty, staff, students and alum.
For more information on Foundation events, please foundation@bellevuecollege.edu
For more photos, visit our Facebook page.
Last Updated December 9, 2022