Join us for our upcoming events!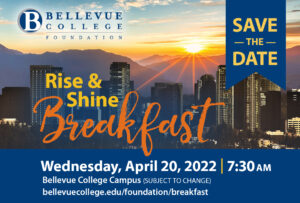 BC Foundation Rise & Shine Breakfast
April 20, 2022
7:30 AM
Mark your calendar for the 2022 BC Foundation Rise & Shine Breakfast! As of now the event will be held LIVE on the Bellevue College Campus*.  *subject to change
---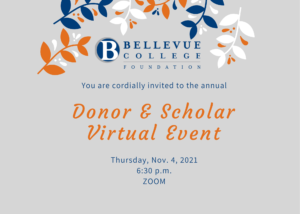 Donor and Scholar Virtual Celebration- November 4, 2021
The Foundation hosted the annual Donor and Scholar event virtually this year.  This year's event included a student scholar panel moderated by BC Foundation board member and professor.  Donors and scholars spent the evening having riveting discussions through Q&A.

BC Foundation Faculty and Staff Excellence Awards
The Excellence Awards recognize outstanding faculty and staff members who demonstrate a commitment to excellence through their contributions to the campus and to the community. Awards of $2,500 each go to recipients in the following categories: full-time faculty, part-time faculty, and classified staff and one administrative exempt. Nominations may be submitted by students, faculty, administrators, staff, and trustees.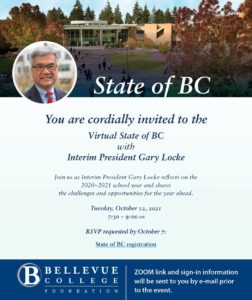 State of Bellevue College – October 12, 2021
The Foundation hosted the fourth annual State of BC event on October 12, 2021. Our President's Circle donors, as well as our Corporate Partners, were pleased to hear comments from Interim BC President, Gary Locke. Interim President Locke provided a review of the past year's successes and opportunities and goals for the upcoming 2021-2022 academic year.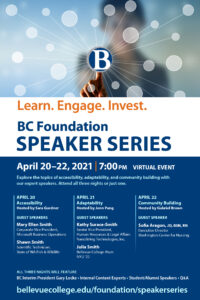 Learn. Engage. Invest. BC Foundation Virtual Speaker Series
April 20-22, 2021
In place of our annual Luncheon, this year the BC Foundation hosted a Virtual Speaker Series. This three-night series will feature both internal and external speakers of a variety of themes. It was a successful event that shined a light on many impressive BC programs, faculty, staff, students and alum.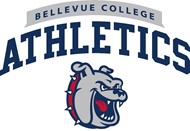 BC Athletics Golf Event:
March 29, 2021
BC Athletics hosted a day of golf at Glendale Country Club. The event was a 4-person scramble. All money raised will support BC Athletic Scholarships! A great day was had by all.
For more information on Foundation events, please contact Eva Murrell, Events Manager & Board Liaison.
For more photos, visit our Facebook page.
Last Updated March 2, 2022