Every October, campuses across the country joins with advocates, organizations, supporters, and allies across the country to recognize Domestic Violence Awareness Month (DVAM).
At Bellevue College we want to create a culture that cares about each other and looks out for one another. During October, the GBV Prevention Office will have some opportunities to engage while raising awareness and providing resources to help prevent domestic and dating violence on campus.
Check out some ways you can get involved below and we can't wait to see you on campus!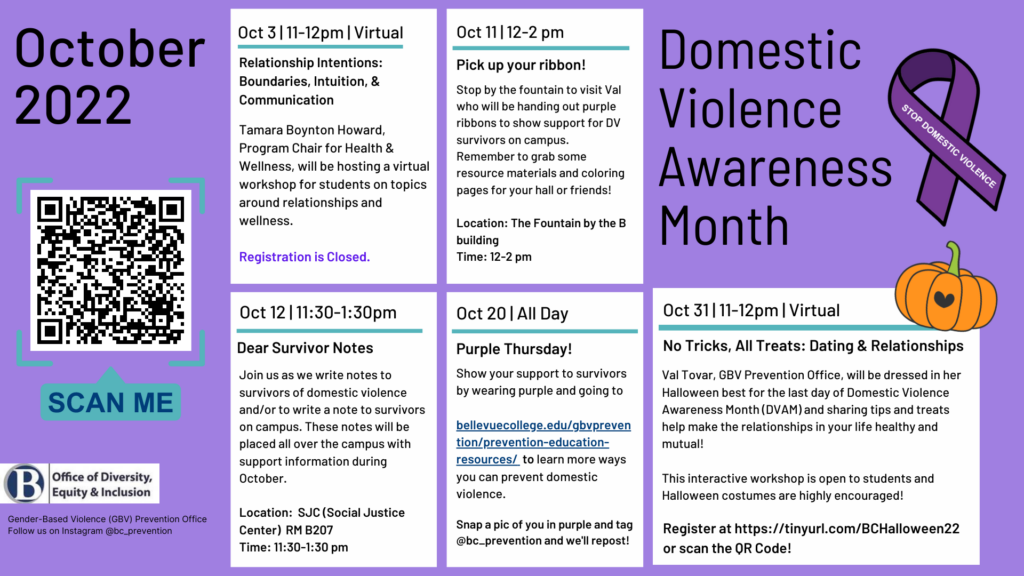 Register below: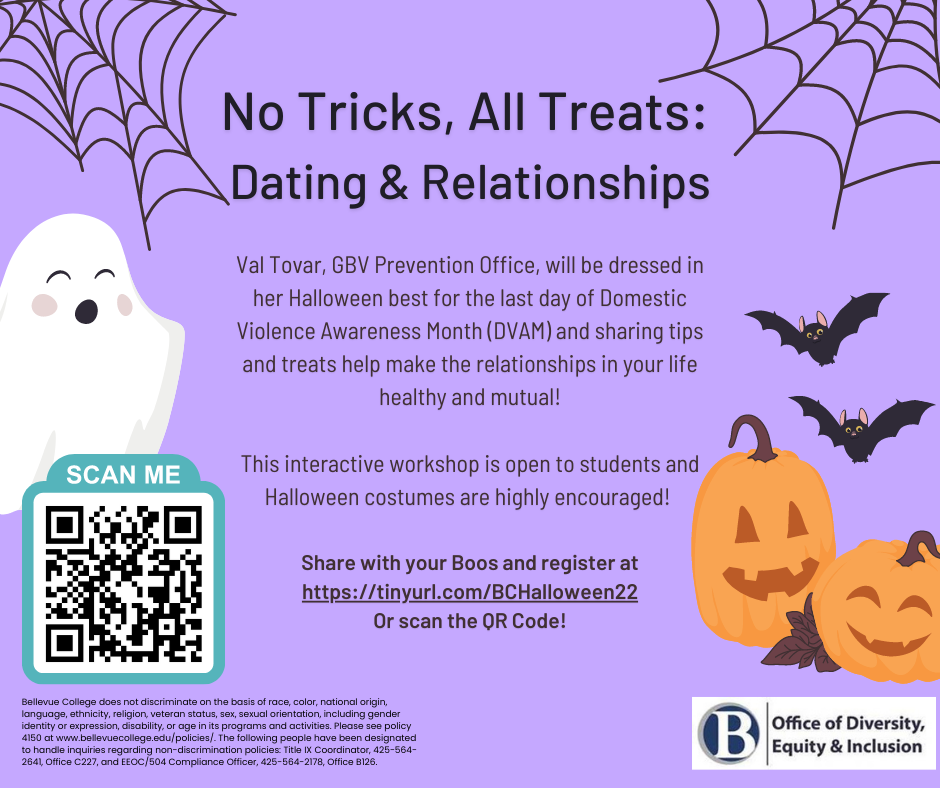 Monday, 10/31 | 11-12pm | Virtual
No Tricks, All Treats: Dating & Relationships
Val Tovar, GBV Prevention Office, will be dressed in her Halloween best for the last day of Domestic Violence Awareness Month (DVAM) and sharing tips and treats help make the relationships in your life healthy and mutual!
This interactive workshop is open to students and Halloween costumes are highly encouraged! Please note: you must use your BC email to register.
Share with your Boos and we can't wait to see you!
---
Tuesday, 10/ 11 | 12-2pm   
Pick up your DVAM ribbon!  
Stop by the fountain to visit Val who will be handing out purple ribbons to show support for DV survivors on campus. Remember to grab some resource materials and coloring pages for your hall or friends! 
Location: In front of the fountain
---
Wednesday, 10/12 | 11:30-1pm 
Dear Survivor Notes 
Stop by the Social Justice Center between 11:30-1pm to pick up a purple ribbon to show your support to survivors of domestic violence and/or to write a note to survivors on campus. These notes will be placed all over the campus with support information during October for all survivors on campus to see.  
Location: SJC (Social Justice Center) RM B207 
---
Thursday,10/20 | All Day
Please wear your favorite shade of purple today to support domestic violence survivors everywhere. Go to our Instagram at @bc_prevention to learn more about domestic violence and how to support survivors on campus.  
Snap a picture in your purple gear and tag @bc_prevention to be added to our story!  
Join from where ever you are! 
Last Updated November 8, 2022