Some health science programs will adhere to the style of the American Medical Association (AMA). If you are in a course or program that uses AMA, you'll need to familiarize yourself with the style not just for classroom assignments, but in order to better understand the research language of the field. 
AMA does not have a specific style for formatting papers, so check with your instructor or assignment guidelines when it comes to margins, line spacing, fonts, indents, title papers, etc.
Recommended Formatting Guidelines
Always refer to the assignment guidelines when it comes formatting your writing. If your assignment does not specify any formatting, follow these general AMA guidelines:
Margins: One inch margins are required around the text. Leave the right margin unjustified (ragged). No columns!
Line Spacing: Double-space the main text (single space only within the abstract, notes, titles and headings, block quotes, tables and figures, and references—everything but the main text)
Font: Use Times New Roman, 12-point font
Indents: Half-inch indents are standard (use the "tab" button) for new paragraphs
Page Numbers: Place page numbers in the top right-hand corner throughout (starting with the title page)
Page Headers: Put the title of your document in the top left-hand corner of the page
Title Page: If your assignment requires a title page, on the first blank page of your document center the following:

Title of document
Your name
Your Instructor's name
Course title
Due date

No Title Page: If your assignment does not require a title page, in the right-hand corner of your first page, include:

Your name
Your instructor's name
Course title
Due date
Sample Formatting for AMA Title Page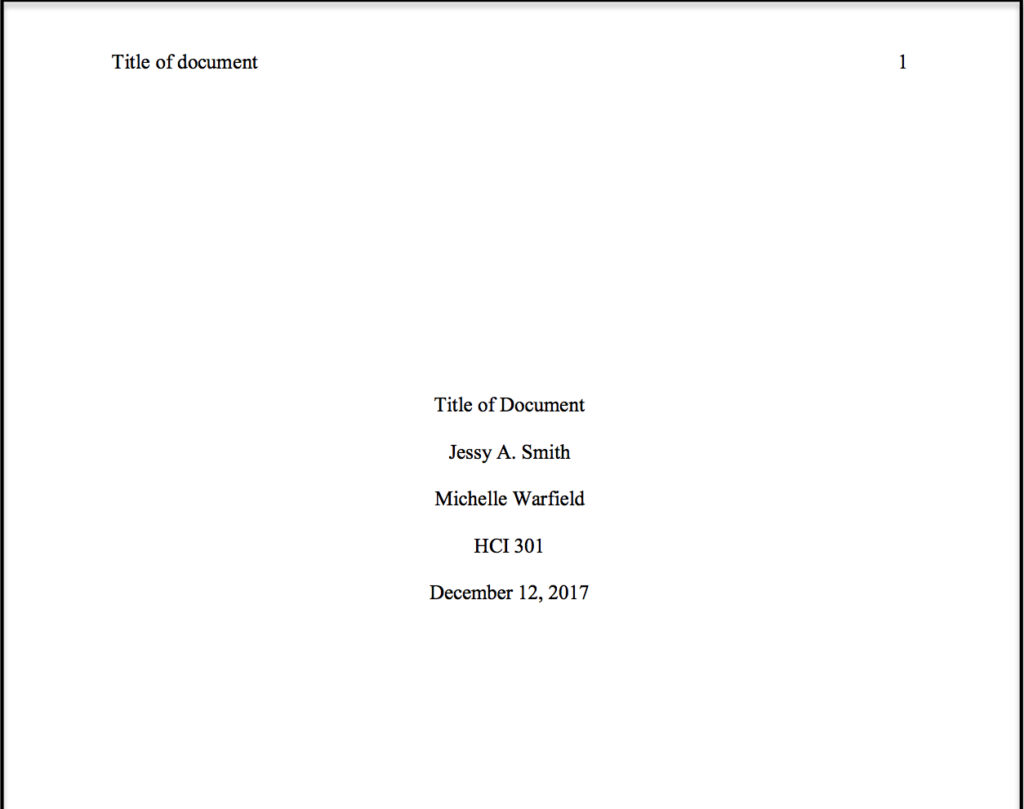 Sample Formatting for No Title Page
Citing Sources
Learn how to cite sources within your document:
Sample AMA Research Paper
Take a look at this sample AMA paper from Western Oregon University. Although most of your assignments will not be long research papers such as this and may require different formatting, pay attention to the general style, headings, and how it cites its sources.
Helpful AMA Links
Last Updated October 8, 2017