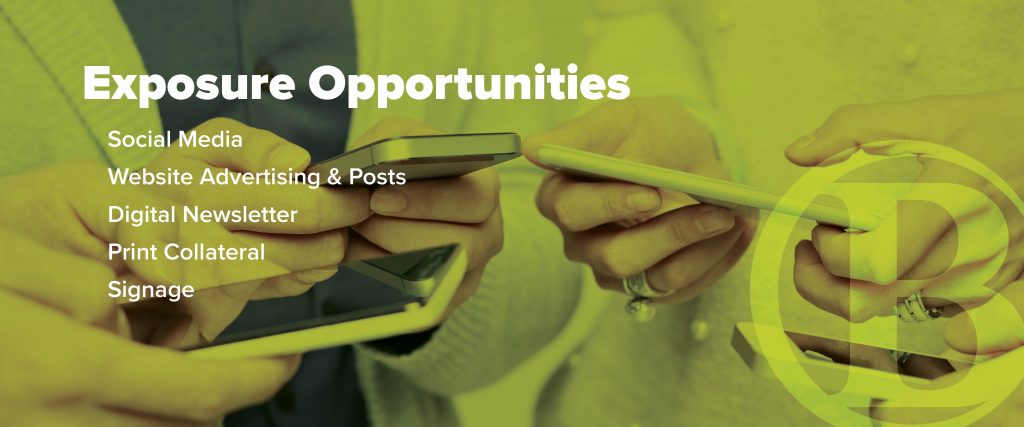 Market Your Class, Program, or Event for Little or No Cost
The chart below shows multiple methods to market your "product" from a basic campaign utilizing free digital advertising to a full court press that includes print collateral and paid advertising. We are happy to provide our professional recommendations on what options will best suit your budget and marketing goals.
To get started, download our creative brief, complete all fields and rename form. Email completed form to creativebrief@bellevuecollege.edu.
| Marketing Methods | Basic Package - No Cost | Enhanced Package - $ | Deluxe Package - $$ |
| --- | --- | --- | --- |
| Social Media | Facebook, Twitter, Instagram, and SnapChat | Facebook, Twitter, Instagram, and SnapChat | Facebook, Twitter, Instagram, and SnapChat |
| Website Advertising | BC Homepage, Event Page and Canvas Ads, Homepage Slider and Landing Page Banner | BC Homepage, Event Page and Canvas Ads, Homepage Slider and Landing Page Banner | BC Homepage, Event Page and Canvas Ads, Homepage Slider and Landing Page Banner |
| Website Posts | FYI Digest, and Event Calendar | FYI Digest, and Event Calendar | FYI Digest, and Event Calendar |
| Digital Newsletter | Prospective or Current Students and Staff | Prospective or Current Students and Staff | Prospective or Current Students and Staff |
| Print Collateral | None | Posters, Brochures and Handouts | Posters, Brochures, Direct Mail Postcards, Program Sheets, and Banners |
| Signage | None | Tabletop and Kiosk Signs | Tabletop, Kiosk, Lawn and Sandwich Board Signs |
| Paid Advertising | None | Boosted Social Media and Website Ads | Boosted Social Media and Website Ads, Targeted Email Campaigns, Print Media Ads |
| Promotional Items | None | None | Pens, T-shirts, Hats, etc. |
Last Updated December 7, 2017