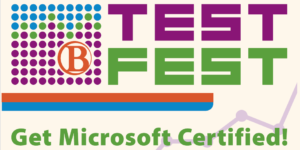 Get Microsoft Certified!
Bellevue College is pleased to partner with Microsoft, Certiport and the Washington State Library to offer high school juniors and seniors as well as college students, the opportunity to get certified on Microsoft technology at no cost to the student.
The Microsoft Technology Associate (MTA) Test Fest is ideal for students looking to validate their technology skills and enhance their resume to stand out on college and job applications. Test Fest helps ensure students have the skills needed to utilize the technologies for college classes or future career opportunities.
Registration for Spring 2022 Test Fest is now open! This even will be held Saturday, May 14th from 9:00 AM – 3:00 PM. Please review the information below before registering at the bottom of this page.
Test Fest is intended for students who plan to take the certification exam on the day of the event. Optional breakout sessions will be available to help prepare students for the exam and review skills in the areas listed in the MTA Program Page. Additionally, study guides are available online for review prior to the Test Fest event.
In order to take the MTA Exams at the Test Fest event, students must pre-register through the Certiport portal prior to attending. You will see the link to the pre-registration site when you RSVP for the event. To make sure you come prepared to take exams, please review all "checklist items".
Please note that you must provide a state or federal issued ID to take any of the MTA tests. Acceptable forms of identification include a driver's license, state issued ID card, or Passport. If you do not bring one of these forms of ID, you will not be able to take the certification exam. If you are under 18 years of age, you must have the Parental Consent Form completed and signed. The form can be downloaded here: MTA Test Fest Parental Consent Form.
MTA TestFest Schedule of Events
8:30- 9:00 AM – Student Check-In
9:00-9:30 AM – Welcome
9:30-9:45 AM – Break
9:45 AM- 11:00 AM – Breakout Study Sessions
TESTING Center OPENS at 9:45 AM and CLOSES at 3:00 PM. Testing is available on a walk-in basis during this time. The last test will start at 2:00 PM.
Once you are registered, review the following checklist to make sure you come prepared:
Do you have your Certiport account?
If you are under 18 years of age, did you complete the consent form?
Did you review the study guide for your certification exam?
Review the Schedule of Events listed above for
No food will be provided, please feel free to bring your own lunch.
Bellevue College is currently a "masked" campus. All employees, students and visitors must wear a mask while indoors through May 1st.
More information to come on possible adjustments to this policy. You can find the lastest requirements under Bellevue College's Covid-19 Resources page.
By participating in the MTA Test Fest event, you understand that your personal information may be captured for the use of processing exam results and/or communication regarding this event. You also understand photos and/or video may be taken at the event and you give your consent to be included. You also consent to the use of your quotes for marketing purposes.
Early registration for Test Fest is strongly recommended. You will receive a confirmation email one week prior to the event. You must respond to the email to confirm your attendance at the event. If you do not confirm your attendance you will lose your spot and it will be given to a student on the wait list.
REGISTER NOW
If the event is "sold out", please check back regularly as tickets may become available when cancellations occur. Those who are unable to get a ticket are encouraged to show up to Test Fest and be on standby. There is a high probability that seats will open up day of.
Last Updated April 19, 2022