BC Illuminates Festival – "Change for Good"
Bellevue College is bringing together authors, storytellers, writers, photographers, musicians, digital world builders, activists, and developers to present at BC Illuminates, a festival of literature, creativity, technology and social change. Taking place over two days, the festival is geared to connect the King County community with inspiring storytellers and creators ranging from traditional novelists to those working in the cutting edge medium of virtual reality.
Topics at the festival range from sustainability to civil rights, delivered by diverse voices to help broaden understanding of the culture and peoples who shape the rich tapestry of the Pacific Northwest. In addition to traditional one-hour presentations, the festival includes panel discussions, readings, exhibits and hands-on activities.
The event's keynote speaker is University of Washington professor Quintard Taylor, a historian and author whose focus is on African-American history in the American West. He will present on his work with BlackPast, a 6,000 page reference center dedicated to providing information to the general public on African American history and the history of more than one billion people of African ancestry around the world. Floating Bridge Press is slated to host a panel with authors Rena Priest and Natasha Moni, whose work engages individuals, enriches communities and enlivens the arts. There will be a screening of the queer punk coming-of-age stop motion animation film Torrey Pines, followed by a discussion with director Clyde Peterson. Prominent Pacific Northwest musician Kimya Dawson will also perform at the festival. A full schedule of the event will be available soon.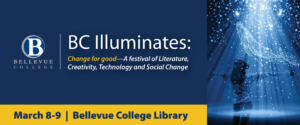 The festival will also include a virtual reality (VR) space, hosted by Bellevue College's new XR Lab. In this area, festival attendees will be able to experience a range of technology-mediated experiences that have been designed to achieve social good outcomes as well as meet a range of technologists and creators from the Pacific Northwest. VR exhibits will include 360° video documentaries, interactive climate change visualizations, immersive interpretations of short stories, interactive artworks and a range of other exciting experiences to try.
"It might seem a little unusual to launch a literary festival with a technology focus, but we felt that we needed to embrace the new ways in which technology is, and will, play a role in how people engage with stories," said  Vivienne McClendon, dean of the Bellevue College Library & eLearning Division. "At the same time we recognized that not all voices get the same opportunity to tell their stories, so we wanted to create space for diverse perspectives."
For more information about the event, visit www.bellevuecollege.edu/illuminates/ or contact BC Library/eLearning Director Sukirti Ranade.
Last Updated December 3, 2019