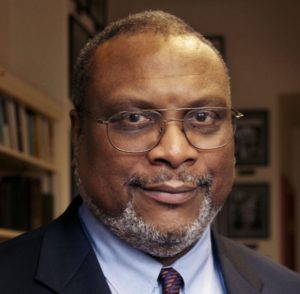 Biography:
From 1998 until 2018, QUINTARD TAYLOR was the Scott and Dorothy Bullitt Professor of American History at the University of Washington, Seattle and as such he held the oldest endowed chair at the University. He is now retired and holds the title, the Scott and Dorothy Bullitt Professor Emeritus. Taylor is the author of The Forging of a Black Community: Seattle's Central District from 1870 through the Civil Rights Era, and In Search of the Racial Frontier: African Americans in the America West, 1528-1990. His Dr. Sam: Soldier, Educator, Advocate, Friend, An Autobiography, which Taylor co-authored with the late university administrator and career army officer, was released in the summer of 2010.
Taylor is also the author of over fifty articles. His work on African American Western History, African American, African, Afro-Brazilian, and comparative ethnic history has appeared in the Western Historical Quarterly, Pacific Historical Review, Oregon Historical Quarterly, Journal of Negro History, Arizona and the West, the Western Journal of Black Studies, and the Journal of Ethnic Studies. He is also the editor of the Race and Culture in the West Series for the University of Oklahoma Press. Twelve titles have appeared in the series since its launch in 2007. A link to the complete list of books in the series appears below.
On February 1, 2007, Taylor and other volunteers created an online website resource center for African American history called BlackPast.org (www.blackpast.org). The center houses over 13,000 pages of information and features contributions by more than 700 scholars from six continents. It is now the largest reference centers of its type on the Internet. In 2017 4.4 million people from more than 160 nations visited the website and in 2018, more than 4.7 million people visited the pages of BlackPast.org. Since its February 2007 launch, nearly 30 million people have accessed information from BlackPast.org.
In October, 2011, Taylor completed his one-year term as the 50th President of the Western History Association (WHA). Taylor has taught at universities in Washington, Oregon, California, and Nigeria over his 46-year career in higher education. In April 2017 Taylor received the Lifetime Achievement Award from the Pacific Northwest Historians' Guild and in September 2017 he received the Robert Gray Medal for his Lifetime Contribution to Pacific Northwest History from the Washington State Historical Society.
For additional information please see the following websites,
Personal Website www.quintardtaylor.com/
BlackPast.org www.blackpast.org
Race and Culture in the West Series for the University of Oklahoma Press http://www.oupress.com/ECommerce/Book/Series/0/SeriesVolumeNumber/False?query=series=22