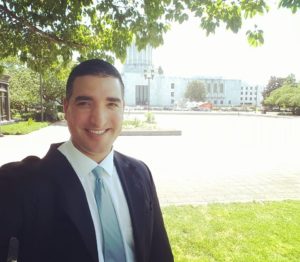 Biography:
Throughout his academic and professional career, Ramon Concepcion has contributed to the advancement of cultural competency, student leadership development, and other culturally relevant programs to recruit, support, and motivate first generation Latinx/a/o students in their pursuit of higher education.
For the last 10 years, Mr. Concepcion's passion for working with underrepresented students in Academia and communities of color has helped to promote equity and inclusion in educational programs developed at the University of Oregon, University of Kansas, the Mexican Consulate in Kansas City, MO, and IRIS Educational Media in Eugene, OR. In these settings, he has successfully engaged students and other stakeholders in conversations to clarify program goals and generate effective implementation strategies.
Mr. Concepcion believes that every student deserves a quality education. But most importantly, he believes that our educational system should provide the resources necessary to help those who need the guidance and support the most. As a Latino in our society and someone who has experienced and understands many of the issues that many students of color face during their commitment to education, he is honored to help students reach their potential as the Assistant Director for Multicultural Service at Bellevue College.