Visit this page to see the list of upcoming workshops hosted by the Leadership Institute. You can also view past workshops by logging in with your BC student credentials. These links expire after 90 days and are for educational use.
Adaptability in Leadership Development – Thursday, June 17 @ 11 am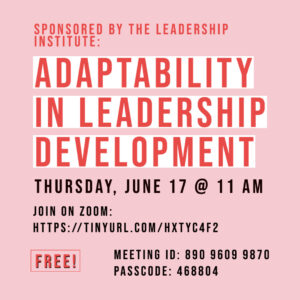 Sponsored by the Leadership Institute!
Good leaders provide a sense of direction, whether that is on the court or in a boardroom. Strong leaders can be relied on to make the right decisions in the clutch moments of a game or project cycle. A good leader takes responsibility for their actions, motivates the team, promotes a strong work ethic and is flexible when faced with unexpected challenges. In addition, the values of a leader on the court align with that of a good leader in the business world. We will discuss accountability in the development of leaders, fostering self-motivation, a positive work ethic, and flexibility (adaptability). We will also walk students through creating a leadership development plan for their organization.
Join Zoom Meeting:  https://bellevuecollege.zoom.us/j/89096099870?pwd=eDJZZTZsS3ZLREFUaXQyaUpIdWtMUT09
Meeting ID: 890 9609 9870 Passcode: 468804
Previous Workshops
Creating Safer Spaces for LGBTQ+ Youth – Thursday, June 10 @ 2pm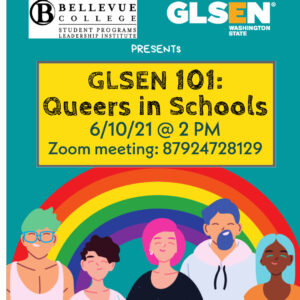 Participants will assess their own attitudes and beliefs related to LGBTQ bias.
Participants will learn about the prevalence of anti-LGBTQ bullying in schools and its impact on students' social, emotional and academic success.
Participants will reflect on the importance of adult allies to LGBTQ students.
Participants will explore strategies and develop skills to respond to anti-LGBTQ bullying and harassment situations that might occur in schools.
Participants will gain knowledge about resources available to support LGBTQ students.
Zoom Link: https://bellevuecollege.zoom.us/j/87924728129
The FUNdamentals of Event Planning & Social Media Marketing – Thu. June 3 @ 11 AM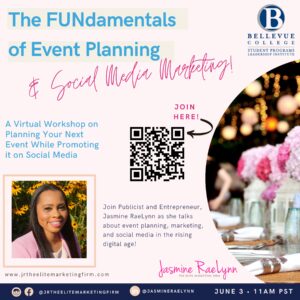 Join the Leadership Institute and Publicist and Entrepreneur, Jasmine RaeLynn to learn about the FUNdamentals of Event Planning & Social Media Marketing! During this engaging workshop attendees will learn about event planning, social media marketing and leadership in the rising digital age!
Date and Time: June 3 @ 11 AM
Doing The Most!! Thursday, May 6 @12 pm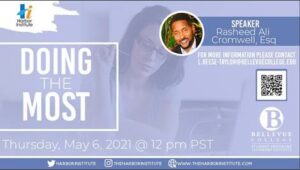 https://us02web.zoom.us/rec/share/esMw2yx_ZYzt8ruWyhDhurqN0ZYWANWQmpM8KKltz6e5bwKohmfcEjqHh1vZVe44.HO9CHe1wHyfmLCKO
Passcode: s9s^dy5j
---
Beyonce Wasn't Built in a Day, Thursday, April 29 @ 7pm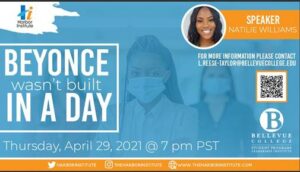 https://us02web.zoom.us/rec/share/5Kvd6UN0YshrR-hawcrHUBlC4c5fteN4-uM4frMwVnQlOHhZbJjaNGMOlUr-HvM6.UvBUHKAcYFbpGDJQ
Passcode: z!g1Q#8r
---
Know Your Risk (TM), Thursday, April 22 @ 12 pm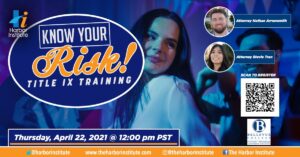 https://us02web.zoom.us/rec/share/39Zwh879eKFOIt6KlQyuLgH20p3ZYJI0KCzDPn-FwU6WN6oFPY9tP35v1Nlj-k8.eJk0LrOglxEylWaB
Passcode: =Z8wr@U0
---
Be Color Brave, Not Color Blind, Monday, April 19 @ 7PM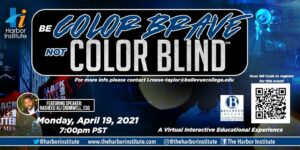 https://us02web.zoom.us/rec/share/r6a_1d0bg1-OjEtqzvwzhiudtCoQB3LmQvuxQggOK7Qgeiq2YeuPXVy7FXVOV2JH.HYEHvOgAeuYxFti1
Passcode: 77@L&xDt
---
Last Updated June 17, 2021