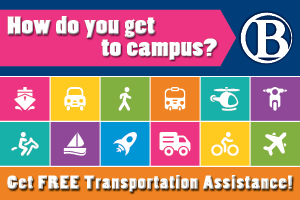 Find out how easy it can be!
Think you don't have commuting options? Not sure how to start planning your trip? Confused about resources on campus? Let us help! We would love to help you get to campus in a way that's fast, efficient, and economical!
In-Person Help at the Start of Every Quarter
During the Open House and the first two weeks of the quarter, seek out our transportation tables and let a Hopelink volunteer evaluate with you the options that will be most helpful for your commute.
Not during the first two weeks of the quarter and you've got some questions?
Trip Planning and Transportation Assistance services at the Transportation Desk in the PALS center, C106.
Email: transportation@bellevuecollege.edu
Phone: (425) 564-2134
Online Trip Planning help:
Don't have time to stop by our campus locations? Plan your trip from the comfort of your own sofa!
Check out Getting Here pages if you'd like to try trip planning for yourself, and keep the following tips in mind:
Would you like to be a volunteer with our Transportation Assistance program and help your peers get to campus? Email transportation@bellevuecollege.edu.
Last Updated August 20, 2020