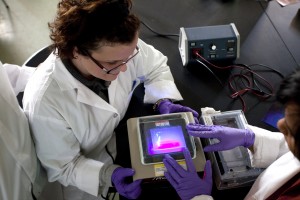 Students entering Bellevue College now have two additional degree pathways to consider.
The Northwest Commission of Colleges and Universities approved bachelor of applied sciences degrees last spring in Molecular Biosciences and Applied Accounting at Bellevue College.
Applied Accounting began enrolling students over summer 2015 and classes are currently underway.
The degree prepares students to hit the ground running in their accounting careers as the bachelor's degree, in combination with the applied component of the degree, means graduates will leave the program with a fully developed skillset in accounting software like QuickBooks, Peachtree, Microsoft Dynamics, SAP and Oracle. The degree also serves as preparation for graduate school, as well as certifications like CMA, CIA, CFE, CPA with a fifth-year component.
"Prior to starting the process we did a lot of research in the accounting industry and found that most of the accounting jobs out there require a bachelor's degree," said accounting faculty member, Anne-Mary Nash-Haruna. "Based on survey feedback from local employers, the degree's application component makes our graduates even more employable."
Molecular Biosciences will begin accepting students in fall 2016.
The degree provides the opportunity to work as entry-level laboratory scientists in bioscience research with employers such as the Fred Hutchinson Cancer Research Center; in pharmaceutical development with companies such as Amgen; and in life sciences product development with companies such as LabConnect. The goal of the coursework is to provide students with a thorough understanding of the scientific disciplines underpinning molecular biosciences. It provides extensive laboratory experience using state-of-the-art equipment, and an understanding of the complex regulatory environment surrounding the biosciences. In addition, the business skills needed to manage a project, including the purchasing and tracking of materials for a lab or a study, round out the skill set.
The degree differs significantly from the traditional undergraduate science degree in several ways, including:
focus on developing a solid scientific background that becomes the foundation for applied laboratory skills;
extensive laboratory work with state-of-the-art technologies to foster the development of independent laboratory skills;
familiarity with reading, understanding and discussing research papers in molecular biosciences through participation in the Molecular Biosciences Seminars;
exposure to project management and general business skills for laboratory settings;
coursework on the regulatory and legal environments within which the molecular biosciences operate;
preparation for immediate employment through a capstone project in a laboratory setting
– by Evan Epstein
Last Updated October 3, 2016