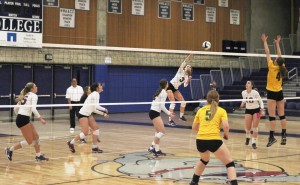 An influx of new faces – both in the coaching ranks and on the rosters – has paid early season dividends for the Bellevue College fall sports teams.
Both the men's and women's soccer teams have new head coaches and are off to successful starts. The volleyball team, with 11 freshman, played its first 20 matches on the road and came out with a winning record.
And, a trio of freshmen led the men's golf team to the Centralia Invitational title.
Assistant Dan Lock took over as head coach of the women's soccer team in June when Kiko Magana took a position in North Carolina. Magana also had been co-head coach of the BC men's team with Dave O'Neill, who took over as sole head coach.
"What we like is competitive teams and I think these are a little bit better than competitive teams," BC athletic director Bill O'Connor.
Soccer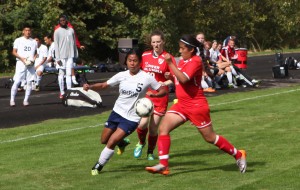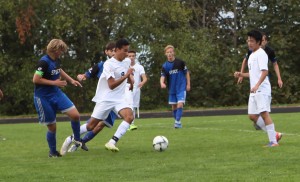 The women's soccer team headed into its final match of September with a 4-1-0 record in the NWAC West Division, one game behind Highline, and 6-2-1 overall. Through the first month, BC's Anna Roslander was second in the conference in scoring with 21 points on nine goals and three assists.
After a 1-0 loss to Highline, the BC women closed out the month with three consecutive conference victories, outscoring those opponents 20-1.
The BC men's team was tied for second in the West Division with a 2-1-0 conference mark and 4-2-1 overall.
Volleyball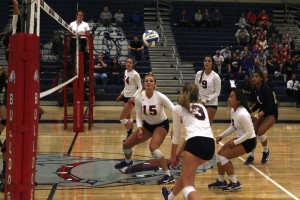 The young volleyball team faced a rugged early season schedule with its first 20 matches on the road, closing that stretch with an 11-9 mark and a 3-1 victory at Skagit Valley to open conference play.
The Bulldogs followed that up with a 3-2 conference victory over Shoreline in their first home match on Sept. 25.
"It got them good exposure to the top eight teams in NWAC," said coach Jocelyn Lawrence. "We had a really tough pre-season schedule. And, that's what I wanted, to see the top teams and see where we were coming out of pre-season. I think it got grueling, but they did really well."
Freshman middle blocker Audrey Saelens was the NWAC offensive player of the week in Week 3.
Golf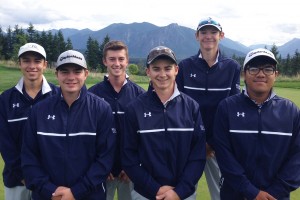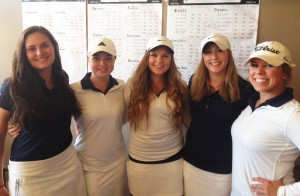 The men's and women's golf teams each took first place at the Centralia College Invitational on September 27-28.
The men's team posted a two-day score of 599 for a four-shot victory over Olympic. BC freshman Eddie Abellar was the medalist with a 1-over-par 145, with freshmen Dexter Simonds and Isaac Hill tied for eighth.
With four finishers in the top 10, led by medalist Meg McMullen, BC 's score of 504 was 24 shots ahead of runner-up North Idaho CC, after a lead of only three shots after the first day. McMullen finished with a 7-over total of 162, followed by teammate Lindsey Gullickson at 166. Kendra Meeker finished seventh and Cedar Bowman 10th for BC.
"Both teams were steady," said coach Bryan Stevens. "The freshmen on the men's side stepped up. They were 1-2-3 on our team. And, the women had a really good second day."
The BC women's golf team is the defending NWAC champion and has won the title three of the last four years.
– by Jim Hoehn
Related links:
Last Updated October 3, 2016