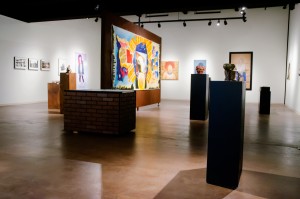 In honor of BC's 50th anniversary in 2016, the College's art department is inviting alumni to submit work for its BC Alumni Exhibition. The exhibition is open to all alumni artists who wish to participate and submit a proposal. It will be a non-juried show.
For nearly 30 years the college has sponsored a student art exhibit, but this is the first exhibition displaying the work of Bellevue College alumni. The exhibit will run from April 20 – May 20 and the annual student exhibition will be held June 8 – Sept. 28, both in the college's art gallery, The Gallery Space.
"The Gallery Space is pleased to accept proposals from group and/or solo fine art exhibitions each academic year," said Chad White, art faculty and Gallery director, "Artists or groups working in any form of creative media are encouraged to submit proposals. We are always looking for new and exciting work." All 2D and 3D, solo or group proposals will be accepted.
Please send proposals to:
Chad White, Gallery Director, at:
chad.white@bellevuecollege.edu
or Bellevue College
3000 Landerholm Circle SE, R230
Bellevue, WA 98007-6484
Submit by email or flash drive:
Detailed description of the proposed exhibition and how it would help the college community
Artist's Statement & Curriculum Vitae
15-20 images of your work, include dimensions
Link to your online portfolio
For more information, visit the Gallery Space website.
Last Updated October 3, 2016