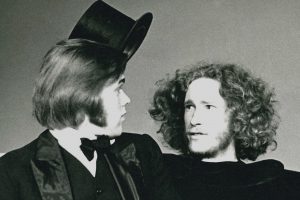 The first drama class was offered at Bellevue College in 1967. A year later, faculty member Bud Carlson founded the BC Drama Department. When Carlson died suddenly a year later, students voted to name a new theatre in his name.
Today the Theatre Arts Department of Drama and Dance performs in the 300-seat Carlson Theatre and in the Stop Gap Studio, both housed in the Carlson Theatre building. The 60-80 seat Stop Gap Studio is a "black box" theater in which the seating and stage units vary from show to show. Why Stop Gap? Because "Stop Gap" was the name of the classroom used as a theatre while the theater was under construction.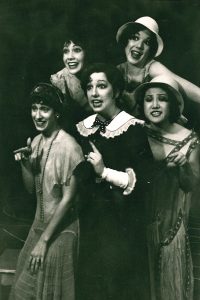 The Theatre Arts department has been active in the Kennedy Center American College Theater Festival for more than 30 years. Students and entire productions from BC have been honored across our nine state region.
Bonnie Wallace-Hoffman, director and acting instructor, became a faculty member in 1970. She assumed leadership of the theatre program following Carlson's death and became responsible for the drama department and overseeing construction of the theatre. One of Wallace-Hoffman's students who became a professional actor is R. Hamilton Wright. He has worked in theatre, film and, in recent years, become a playwright. Wright shares a BC memory:
"The first play I acted in was at BCC. It was Jules Feiffer's "Little Murders" and I was terrible! But it was fun. I was 21 years old and I was playing the father. We had a dinner scene in which we ate next to nothing because we had no money. I think we had some sort of canned soup. One night someone's mother made us a real dinner – a deep dish lasagna and a salad and garlic bread. Oh my God. We were all so hungry and nobody told us the food was coming so when we got to the dinner scene we must of added five minutes because we were all eating everything we could. It was so good. Couldn't understand a thing we said but we cleaned our plates. Happy golden jubilee to Bellevue College!"
Maureen O'Reilly, a drama instructor at BC from 1977–81, said: "I directed the first production on the new main stage – a murder mystery… I taught and also directed a production of a Chekhov one-act ("The Marriage Proposal") in the small theatre. Happy 50th to everyone."
Tammis (Tammi) Doyle has been chair since 1994. "I was a full-time temp after Bonnie retired in 2003, then got the tenured faculty position the next year," said Doyle, "I became chair after our interim chair, Laura Nudelman, stepped down." Joining Doyle was Brian Healy as design/tech faculty. Doyle leads the department and also directs and teaches acting, directing, and musical theatre.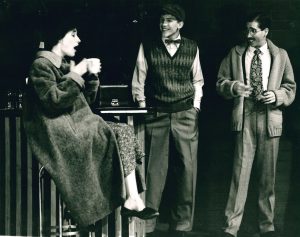 In the mid-2000s the program became the Theatre Arts Department of Drama and Dance. Notable dance instructors have included Betty Ann Platt, who developed the dance program, and now Eva Stone and Laura Peterson. They teach ballet, jazz, and modern dance and direct a yearly Student Dance Showcase and the student-driven new Bellevue College Dance Company.
Today the drama faculty includes Karen Jo Fairbrook (Acting, Shakespeare, Dialect Coach), Bradetta Vines (Acting, Audition, Movement), and Elena Hartwell (Playwriting).
"One of the cornerstones of the Theatre Arts program is the student group – Stage Fright Student Drama," said Doyle. "It has existed in one form or another since the inception of the program, and produces DIRECTions – A Festival of Ten Minute Plays, written, designed and directed by our students, each Winter quarter since 2004." Between 1998 and 2016, the program has produced more than 100 plays, giving countless students the chance to gain experience in acting, directing, playwriting and theatre technology.
Of her tenure at BC, Doyle says:
"I began as an adjunct, directing my first show in the Carlson Theatre in 1990. Over the next 12 years I taught in the American Studies, Communication Studies, and Speech Department. I have found engaged students across our campus who are involved in the world around them and interested in questioning that world. In the past 26 years I have directed students who are still acting, designing and directing professionally as well as sharing their theatrical art at their kids' schools and at their churches. Many of the most inspired moments in my theatrical life have been here. Our theatre students are creative, inquisitive and eager to create as well as interpret. I am proud to have been a part of their lives for a brief time."
– by Sharon Berg
Jim Caviezel Was Here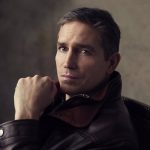 Jim Caviezel is a BC alum who has gained fame as a professional actor. Did he show signs of that future here? He was not a theatre major, nor did he act in any plays here, but he did take Acting/Improvisation fall quarter 1988 with Bonnie Wallace-Hoffman and Acting/Movement with Christian Swenson winter quarter 1989.
Caviezel's fame at Bellevue College was for playing basketball
Ernie Woods, Caviezel's former coach at BC, said "He was a good player, and played on a very good team. His first TV show was "The Wonder Years" and he played a basketball player."
"Jim was a very hard worker, probably the hardest worker I ever coached, and very focused," said Woods. "Caviezel is left handed, but when making the movie "Bobbie Jones" he had to learn to swing a golf club right handed. I'm sure that took a lot of practice and focus."
He turned his focus to acting after transferring from BC to the University of Washington. Caviezel's breakout role was in the movie "The Thin Red Line." He is probably best known for portraying Jesus Christ in the 2004 Mel Gibson directed film "The Passion of the Christ." Among his many credits is the television show "Person of Interest", watched by over 10 million viewers weekly.
Related Links
50th Anniversary Video: Theatre Arts at BC
Last Updated August 25, 2017