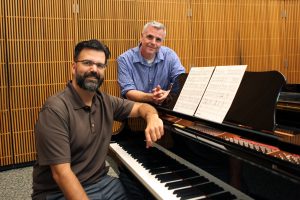 A full-length film, "Bezango, WA," selected for screening at Comic-Con held in July in San Diego, is the work of BC faculty member Ron Austin with Louise Amandes, former adjunct faculty, and music by Dr. Brian Cobb. Their documentary has been shown at several festivals, including Northwest Projections, where it won an award for best music, composed by Cobb, and the Palic International Film Festival, in Serbia.
The documentry showcases the eccentric culture surrounding comics and cartoonists in the Pacific Northwest, and features Frank M. Young and David Lasky, co-creators of the Eisner Award-winning graphic novel "The Carter Family: Don't Forget This Song." Other featured cartoonists include Ellen Forney, Peter Bagge, Jim Woodring, Shannon Wheeler, Shary Flenniken, Brian Basset, David Lasky, Pat Moriairty, Megan Kelso, and Kelly Froh. Steve Willis, who created the comic "Bezango" that is all about the Northwest, was a major player in the film, which is why Austin and Amandes named the film after his comic to represent the cartoonists from the Northwest.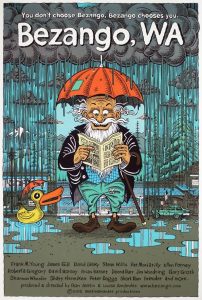 Getting "Bezango, WA" screened at Comic-Con is a big deal within the comic and cartooning community. Austin and Amandes submitted their film to Comic-Con with the hope that it would be chosen, and that dream came true. Austin said, "We had a good showing and it was a lot of fun to be part of Comic-Con. It was huge – like three Seattle Centers worth of comics and pop culture."
Austin once considered being an editorial cartoonist and found out about a bunch of local groups, the main one being Cartoonist Northwest. "The people in the group are very eccentric because they are cartoonists and illustrators. As I got to know the people more, I thought they'd make really interesting stories," Austin said. He started making short videos about them around 12 years ago.
Throughout the film Austin and Amandes explored the history of the talent of the artists to portray how unique the PNW is. The film also shows how the world of cartooning has changed, especially in the written form. Because the film documents the history of cartooning, it has sparked interest by libraries in the film to be screened and made a part of their archives.
– by Tessa King
Related Links
Last Updated September 30, 2016