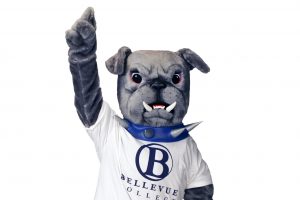 It's been quite the year of celebrating for Bellevue College's 50th Anniversary, and it's not over yet! Bellevue College is having a Homecoming event – our first ever. Activities are planned for every day of Homecoming Week, October 10-15. Held at the college main campus, there will be food, music and some surprises.
Monday, Oct. 10
Kick-Off & MulticulturalDay
Launch Event: Proclamations from Local, State, and National Organizations
Giant "50" Photo with Students / Faculty / Staff
Hispanic Heritage Program "Latinos Changing Face of Washington"
Tuesday, Oct. 11
BC Cares Day
Blood Drive "50 Pints for the 50th" Day 1
Clothing Drive
Wednesday, Oct. 12
Thriller Day
Thriller Dance Lesson
Blood Drive "50 Pints for the 50th" Day 2
The Exceptional 50 Reception
Thursday, Oct. 13
Health & Wellness Day
BikeMobile, Yoga, and Produce Stand
Advisory Board Reception
Friday, Oct.14
Spirit Day
President's Cabinet Homecoming Breakfast
Golf Cart Decorating & Parade
Chalk Art Contest
Music Concert, Food Trucks, Community and Kids Activities
Other Upcoming 50th Anniversary and BC Foundation Events:
Washington Supreme Court Visit
The Washington Supreme Court has accepted BC's invitation to visit BC's campus in the fall, the exact date to be determined. This is a very exciting opportunity for BC and we are looking forward to their visit. On day one, they are expected to tour the campus and then spread out to attend different classes and have lunch with the students. There is a reception that first evening. On day two, the justices have oral arguments with a question and answer session afterwards.
Donor & Scholar Reception
Nov. 9, 5:30-7:30 p.m., on the BC campus. This event celebrates the exceptional group of BC Foundation scholarship recipients, as well as the generous donors who make these scholarships possible.
50th Anniversary Gala
Saturday, Jan. 7, 2017, at the Golf Club at Newcastle. It's the culminating event and celebration of the 50th Anniversary! Mark your calendars for this fun and elegant night to benefit the BC Foundation.
---
It's Been a Year-Long Party
Here are some of the events we've already held to celebrate BC's historic 50th year:
A Delicious Ice Skating Birthday Party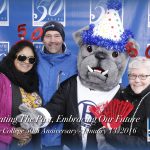 In January BC kicked off its year-long celebration of its 50th year with an ice skating party in the theatre courtyard. A damp day didn't dampen the spirits of those who participated and made the hot chocolate and s'mores even more appreciated. There were three giveaways for the first 50 people who brought canned food and other non-perishable food donations for the campus food pantry for students in need. The event was sponsored by BC's Institutional Advancement and Student Programs departments.
BC Cares Day at Robinswood Park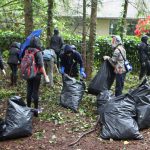 More than 50 members of the BC community – including students, faculty, staff, families and friends – turned out at Robinswood Park on a rainy Saturday morning in May to help with a beautification project for another 50th anniversary event: the first annual BC Cares Day. With the guidance of the City of Bellevue Natural Resources Division and Forest Management Program, BC's volunteers cleared a sizeable area of invasive species such as English ivy and English holly, filling an entire truck with garbage bags. Another BC Cares Day event is planned for fall. More photos.
Not Your Grandma's BINGO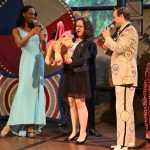 As part of BC's 50th anniversary celebration, a brand new event was held on June 1 called BC BINGO: Not Your Grandma's BINGO! Hosted by drag performer Adé Cônnére, the evening featured several rounds of BINGO play, a mac'n cheese bar, beverages and a photo booth. Proceeds benefited the BC Foundation.
– by Sharon Berg
Last Updated October 3, 2016