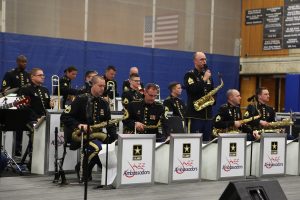 At a critical juncture of both his life and his musical career, what turned out to be the correct path for Army Sgt. Maj. Andrew Layton went squarely through Bellevue College.
The BC alum returned to campus earlier this year as the lead alto saxophone and frontman for the acclaimed Jazz Ambassadors of the U.S. Army Field Band of Washington, DC for a concert at the Courter Family Athletic Pavilion.
"I was there for a year back in 1993 to '94. The previous year, I attended the Berklee School of Music out in Boston right out of high school," said Layton, who graduated from Kentridge High School in Kent, Washington.
After a year of running up what he called "significant" student debt, along with being homesick, Layton returned home to evaluate his options and found himself at Bellevue College.
"At that point, Bellevue was the absolute best place for me to be, and I was lucky enough to be surrounded by the good musicians who were there at the time and great teachers, as well, to help me find my footing and push me forward from that point," Layton said, who played in the BC Jazz Band and the Celebration Jazz Choir.
Layton then transferred to the University of North Texas, where he eventually graduated with a bachelor's degree in music education. Another North Texas music grad, who was joining the Army band, told Layton about a saxophone opening in the band.
Six months later, they crossed paths again and the saxophone slot still was open. Because musicians can audition as civilians before joining the Army, Layton gave it a shot, earning the spot he still holds 16 years later.
The Bellevue College concert was sponsored by the BC Music Department and Office of Instruction.
"I've known Andrew for many years," said Jim Sisko, BC Jazz Band Director. "Andrew reached out to me and said, 'We're looking at a West Coast tour,' and I said, 'I'm your spot.'Let's make sure that Bellevue College can be on the map."
The concert drew a mixed audience of all ages, including many military veterans, with an estimated crowd of about 600, said Lyneen Patnoe, the performing arts manager at BC.
"It was really good," Patnoe said. "They had a great time, everyone from the little kids to our oldest person there, the veterans. I didn't see anyone who wasn't happy. And, there were a lot BC campus employees."
The Bellevue College Jazz Band opened the show.
"We travel all over the country and have bands open for us all the time – colleges, universities, high school bands – that band was better than 95 percent of the bands that have opened for us and I don't say that as a homer," Layton said.
Looking back, Layton said that his time at Bellevue was instrumental to where he is now.where life was going to be headed at that point, Bellevue was the 100 percent best place for me to be at that time."
– by Jim Hoehn
Last Updated October 3, 2016