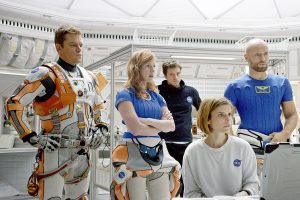 After successfully navigating local literary waters, the BC Reads selection committee has set its sights on a more distant setting for the current school year.
Last year, the choice for the annual campus-wide reading program was the hugely popular, "The Boys in the Boat," Daniel James Brown's bestselling narrative non-fiction account of the University of Washington rowing team in the 1936 Olympics in Berlin.
The latest selection in the BC Reads series, which began in 2002, is "The Martian," Andy Weir's debut science fiction novel about a U.S. astronaut stranded on Mars who survives by combining his scientific background and a stubborn refusal to concede.
Weir's novel was then made into the Oscar-nominated movie of the same name starring Matt Damon as the problem-solving space survivalist.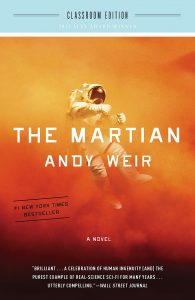 "We had 14 titles nominated and we got it down to four," said BC librarian Wilma Dougherty, who chaired the selection committee. "I guess "The Martian" stuck out because of the math. This is the first time we've had someone from math on our selection committee and she said she would use it in her classroom. That made me very happy to hear that. So, we took a vote and "The Martian" won."
The display in the Library Media Center for "The Boys in the Boat" included two of the iconic wooden racing shells designed by the legendary George Pocock, a central figure in both the book and the historic UW rowing program.
An open house event in the LMC during the spring quarter featured a presentation by Matt Lacey, executive director of the George Pocock Rowing Foundation; a display of jerseys from the 1936 Olympics; and historical video footage of that crew team.
Dougherty said planning is underway for a variety of events and displays based on "The Martian." An Apollo spacesuit also will be on display with shipping costs shared as a partnership between the BC STEM program, the astronomy department, and the LMC.
A portion of the library is being remodeled into a collaborator area, where people can work together or speaking events or presentations can be held, including those for "The Martian."
Vivienne McClendon, dean of the Library Media Center, said the BC Reads program and accompanying events are part of a broader initiative to reach a larger audience.
"Our priorities are to grow, engage and partner," McClendon said. "That's what we want to do with the library, not just because we're the library, but because we have something that you want. We want to be able to engage various constituencies across campus in various ways."
Dougherty said she hopes the popularity of the movie version of "The Martian" helps steer readers toward the book.
"This is the first time we've chosen a book that has a movie with it," she said. "We'll see. Even if they only watch the movie, they're still seeing what I think makes this book so notable."
– by Jim Hoehn
Last Updated October 3, 2016