The Bellevue College men's and women's basketball teams each completed the non-league portion of its schedule with winning records and now hope to carry their early-season success into Northwest Athletic Conference play.
The men's team finished non-league play with a 10-5 mark, including three consecutive victories to win their own Bellevue Bulldog Classic tournament in mid-December. The Bulldogs then split their first two NWAC games.
The women's team also split its first two conference games after posting an 8-5 mark in non-league play.
Men's Basketball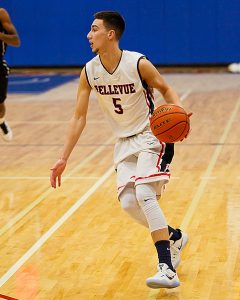 After splitting their first two games of the season, the Bulldogs reeled off eight consecutive victories, before hitting an inconsistent stretch.Through the first 17 games, BC has been led by the sophomore backcourt duo of Jordan Muir-Keung and Taylor Freeman.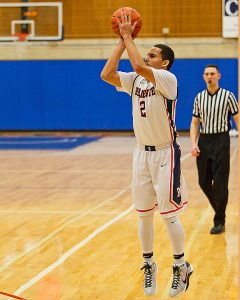 Muir-Kueng, who was named to the NWAC North Region All-Defensive Team last season, was averaging a team best 17.7 points, shooting 47 percent from the field – including 37 percent (34-93) from beyond the arc. He also led the team in assists, dishing out 3.4 per game. Muir-Kueng scored in double figures in 15 of the first 17 games, with a season-high 29 among eight games of 20 or more.
Freeman was averaging 16 points, topping the 20-point mark six times, including a season-high 29 in an 87-79 victory over Mt. Hood on Dec. 15 at the Spokane Crossover.
Freshman center Max Tilden was the leading rebounder at 7.53 per game, and also had 22 blocked shots.
Last season, the Bulldogs got off to an 0-6 start in league play before an incredible second-half surge to earn a playoff spot.
Women's Basketball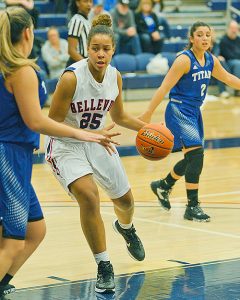 The BC women, who finished second in the North Region last season with a 12-2 league mark, have been led in the early going by freshman Brenda Akoto and Molly Dixon, and sophomore Erin Hamilton.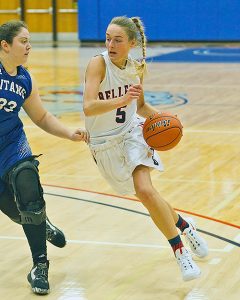 Akoto, a 6-foot forward, was averaging 15.9 points and 9.1 rebounds per game to lead the Bulldogs in each category, while shooting 52 percent from the field. She was named the NWAC Player of the Week in Week 3 while leading BC to the Pierce Holiday Tournament title, including an upset of then top-ranked Lane in the semifinals.
Dixon was averaging 10.6 points and a team-best 3.15 assists. She also led the Bulldogs outside attack with 20 3-pointers from her guard position.
Hamilton, a 5-9 swing player who was a North Region All-Defensive pick last season, was averaging 10.3 points, 6.5 rebounds, 2.8 assists and 1.5 steals. She also was second on the team with 20 blocks, behind Akoto's team-high 25.
– by James Hoen 
Last Updated January 26, 2017