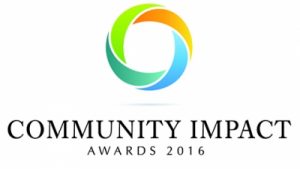 A partnership between Bellevue College and Year Up Puget Sound won the Seattle Business Magazine's Community Impact Awards in the category of Job Creation and Workforce Development. The award honors Washington state businesses and organizations that are making a tangible, measurable impact on their communities.
The Bellevue College and Year Up partnership was selected from among 72 companies and organizations overall, and as one of three finalists in the category of Job Creation and Workforce Development. At a gala held at the Museum of History and Industry (MOHAI), all of the finalists were recognized, including Amazon.com, Columbia Bank, Evrnu, FareStart, Glassybaby, Itek Energy, Kinzer Partners, McKinstry, Millionair Club, Optimum Energy, Rice Fergus Miller, Savers/Vallue Village, Skanska USA, Sleep Train, Sleeping Lady Mountain Resort, Theo Chocolate, Tree Top Inc. and Wellspring Family Services.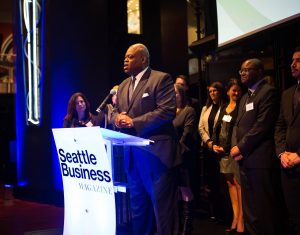 Together, Bellevue College and Year Up provide a one-year, intensive training program for opportunity youth ages 18-24 (opportunity youth is defined nationally as people between the ages of 16 and 24 who are neither in school nor working). The program provides a combination of hands-on skills development, coursework eligible for college credit, corporate internships, and wraparound support. For the class that graduated in January 2016, 90 percent were working or in school full time, with an average hourly wage of $23.62 within four months of graduation. Local companies employing those graduates include Nordstrom, Expedia, Microsoft, Amazon, Liberty Mutual, Starbucks, and Zillow.
"We have a lot of jobs in the Seattle area – as one of the largest tech centers in the country we often have tech jobs that go unfilled," said Al Lewis, vice president of economic and workforce development at Bellevue College. "There are also so many people who want to work and want to advance – they lack appropriate training and access to these positions. Year Up has long recognized "The Opportunity Divide" – the gap between talented young adults and the opportunity for jobs. Our partnership allows us to collectively work to close this gap. Postsecondary institutions can provide training that directly and quickly prepares people to work. Not just bachelor's degrees, but certificates and applied degrees that get our communities workforce ready in a short amount of time."
All of the finalists were profiled in Seattle Business magazine's November 2016 issue. For more information about the event and award, visit seattlebusinessmag.com/2016-community-impact-awards.
– by Nicole Beattie
Last Updated January 26, 2017