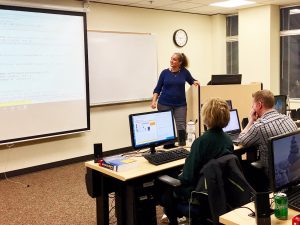 Answering the big question, "What do I want to be when I grow up?", is something most people have thought about from a young age, and for some it is still a work in progress. Finding one's true calling, or passion in life, comes from trying new things and putting ourselves out there to discover what sparks our interests. Bellevue College Continuing Education's web design instructor, Mignonne Maxwell, has been on a remarkable journey of self-discovery having gone from student to instructor in just a few short years.
Like many students, Mignonne began taking classes hoping to learn something new and gain job-ready skills that could lead to a career opportunity. What she didn't know was that along the way she would discover a talent and passion for computers and web design.
Before embarking on her new path as a web design professional, Mignonne worked as a horticulturist for 25 years. "I had gotten to the point where I had exhausted that as a career and needed more." She had an interest in computers, but had never taken any computer classes prior to attending Bellevue College Continuing Education (BCCE). Her story is a great example of how someone can go from beginner to advanced, simply by having the determination and will to succeed.
After three years of taking classes and working full-time, Mignonne completed the Web Design Certificate in 2011 and landed her first job as a web developer in 2012. Within three years of receiving her certificate she had changed careers and was using the skills she gained from the program in her new job roles. She went on to work in software application development which focused on the core classes she had taken at BCCE, and now she is a front-end developer and instructor at Bellevue College Continuing Education.
Mignonne recalls the moment when one of her instructors who she thought was "so excellent and inspiring," asked if she was interested in sharing her knowledge as a Continuing Education instructor with aspiring students. That is when she knew she had to take her newfound passion to the next level. "I teach because of the "Ah-ha!" moments I had in class while going to BC and seeing it in my students. It's the biggest pay-off that any teacher could want."
One of Mignonne's philosophies is, "You can completely reinvent yourself by going and getting educated." She remembers feeling confused at first, but her desire to understand and overcome the fear of not knowing is what got her through each of the classes. She loves coding and makes sure to tell her students that they will love it too, once they get the hang of it. Her enthusiasm about programming and teaching it to others stands out, and it's clear that this is the calling Mignonne was meant to discover.
Her advice to prospective students:
"Bellevue College was majorly effective for me. The combination of the coursework and teachers helped me come out with a very solid foundation. I realized after competing with others in the industry, that they didn't have the same level of foundation I had, especially with HTML and CSS. I'm a total advocate of BC. My husband also got a certificate at Bellevue College in Technical Writing. If you're thinking about it, do it. Even if you don't become the next web developer or web designer, you will gain so much self-confidence about mastering the information. Just sign up for classes and go! It's the best thing you can do for yourself."
– by Jasmina Dimic
Last Updated January 26, 2017